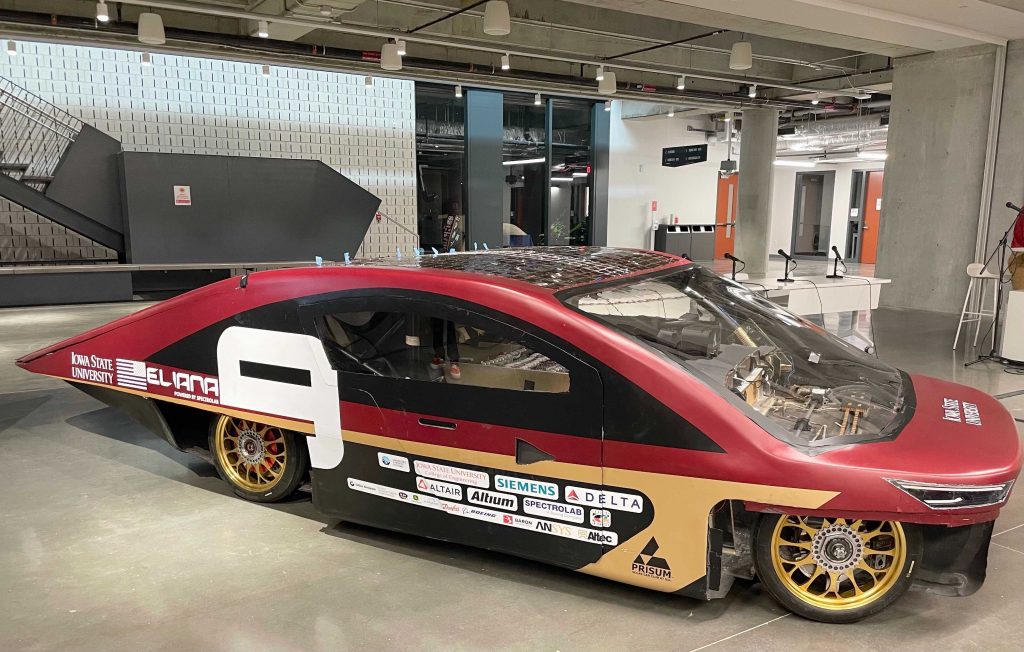 Iowa State University's solar car club, Team PrISUm, unveiled its newest model on Friday afternoon at the Student Innovation Center: Eliana.
Eliana is the 15th iteration of a solar-powered vehicle that the student club has developed since its founding in 1989. Typically, the team develops a new model every other year. The name for the newest car was inspired in part by the Latin family name Aeliānus, meaning "Of the sun".
Eliana was modified in various ways compared to PrISUm's previous model, Penumbra. Penumbra was a four-seater, while Eliana is a two-seater. Eliana also has different solar cell chemistry (Penumbra used silicon, Eliana uses mainly Gallium Arsenide), different overall suspension geometry (Penumbra's front suspension was all connected via welded aluminum, Eliana's suspension is not welded together in some central way), a differently shaped aeroshell (Penumbra's was focused on practicality, Eliana's is focused on performance), different roll cage material (Eliana uses Chromoly Steel, Penny used Aluminum), and a completely redesigned electrical architecture.
"The biggest change made from Penumbra to Eliana was a much heavier focus on performance," said Michael Holm, project direction for Team PrISUm. "Eliana is about half the weight of Penumbra and has a much more aerodynamic aeroshell. Not a single component was put into our car without considering weight. We decided to make this paradigm shift because, while Penumbra was the most practical solar car in its field, she was not the best performing. We wanted to improve on this."
A few dozen members of the team and others from the Iowa State University community were on hand to watch the unveil. The event was also live streamed via Youtube Live for those unable to attend in-person.
"For most of us, this is the most time and effort we've ever put into a project, and to have people cheering us on and wanting to come see the car we're building means so much," said Rachel Eckert, assistant project director for Team PrISUm. "This is such an exciting time for the team and it's awesome to be able to share that excitement."
Planning and design for Eliana began in early 2018. The team assembled and painted the aeroshell, designed the electrical boards and even began to do some testing before the COVID-19 pandemic hit and the team had to adapt its operations. Perhaps the biggest adaptation was that only five team members were allowed in the workshop at a given time during the height of the pandemic, which slowed their progress, but the team agreed this was a necessary step to avoid further spread of the virus.
During the development of Eliana the team had the opportunity to move into a new, state-of-the-art shop facility inside the Student Innovation Center. The new facility includes an industry standard clean room, machine shop, storage space, shared student organization office and assembly bay.
The team will give Eliana its first major test when they compete in the Formula Sun Grand Prix (FSGP) and the American Solar Challenge (ASC) events later this summer. (We will have a communications specialist embedded with the team during this time so follow on Facebook and Twitter for updates throughout the qualifying events and the rayce itself.) FSGP is an annual track competition which serves as a qualifier for ASC. This year's FSGP will take place July 30 through Aug. 1 at Heartland Motorsports Park in Topeka, Kan. ASC is a 31-year-old racing competition that is 1500 miles to 2000 miles in length and which covers different regions of the country each time. This year's route begins in Independence, Mo. on Aug. 3, roughly follows the Santa Fe Trail, and concludes in Las Vegas, N.M. on Aug. 7. (The exact route is still being determined by rayce organizers.) The team now shifts its focus to the rayce.
"Now that the team has unveiled our car, we are mainly focused on two things. The first is meeting regulations that we must meet to be allowed to race. These include weight specifications, braking requirements, speed requirements, and safety requirements. The second thing we are focused on is testing, testing, testing. You will start to see the car driving around the Ames area as we start to gather data like rolling resistance, air resistance, overall efficiency, current draw of the different systems around the car, and the performance of our car's suspension. In particular, we are preparing for the high elevation we will reach during our rayce, and the steep hills and mountains we will have to make it up," Holm said.
---
Special thanks to Team PrISUm's current sponsors
Platinum: Altair, Altium, Delta, Engineered Syntactic Systems, Iowa State University College of Engineering, Coastal Enterprises, Siemens, Spectrolab.
Gold: Altec, ANSYS, Baron, Boeing, Collins Aerospace, Danfoss, Harman International, John Deere.
Silver:Donaldson, Greater Machining and Manufacturing Co., Iowa Space Grant Consortium, Kiewit, Marshalltown, MidAmerican Energy Company, Winnebago Ind.
Bronze: 3M, American Waterjet Cutting, ARCONIC, Barilla, CMT Materials, Composites One, De-Comp Composites, DUNA-USA, George White-Ames, HEXCEL, Morgan Meredith, Quality Manufacturing Corporation, TORAY, VICOR.
Cardinal: 3DM, CAT, Central Iowa Machine, Inc., David and Christine Slump, Don Hummer Trucking, Evan Stumpges, Joe and LuAnn Meyers, Larry and Judith Rollstin, Mid-West 3D Solutions, Ronald Brownlee, Sinned Customs. Community: Adam's Moving, Ames Ford Lincoln, Ames West Side Storage, Arnold Motor Supply, Bella Hair Salon, Brett Canary, Christopher and Olivia Bloomquist, Dale & Judith Van Zante, Darrell Waugh, Dave Holm and Teresa Albertson, Dee Dreeszen, Douglas Gifford, Eric & Ann Wilson, Farner Storage, Gary & Connie Kent, John Dunn, Lowe's, Mackenzie Klima, Mary McDermott, Mercedes of Des Moines, Molex, Mucky Duck Pub, Numerade, Ryan and Ester Haase, Smeet Mistry, TPI Composites, Walmart.