While COVID-19 has slowed the progress of Iowa State University's solar car team, they are not letting it stop them completely.
Since returning to campus at the start of the semester, members of Team PrISUm have been working on their newest model. Much like anything else on campus and beyond, this contagious virus has affected the team's operations.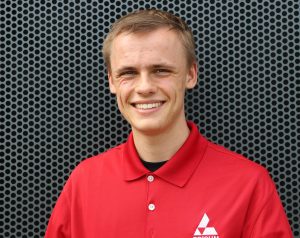 "We're keeping our team to five people at a time in the shop, all wearing masks, and unfortunately that's just not enough people to facilitate fast work on the car," said Michael Holm, project director for Team PrISUm. "But, the team agrees that it's worth it. No one wants this disease, and if moving slower on the car is the price we have to pay, then we're willing to pay it."
Though their pace may be slower, the team is making progress. Earlier this year, the team was on track with an assembled and painted aeroshell, designs for the electrical team's boards were coming together, and they were even beginning to do some testing. Then the COVID-19 pandemic hit, which forced Iowa State to close down many of its normal on-campus operations for the remainder of the spring semester.
However, since the semester began, Holm said the team has found a new drive. In the first three weeks of the term, they made several electrical boards and began testing them, and they also assembled the car's suspension, all while maintaining proper physical distancing.
Holm, a junior in mechanical engineering, added that the team is like a family, so it has been challenging for them to not be all together. The team is an eclectic mix of aerospace, electrical, materials, mechanical, software and other engineering majors as well as folks from business and even interior design.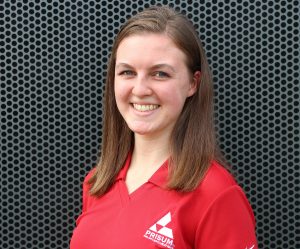 Rachel Eckert, a junior in materials engineering, said she was reluctant to join the team her freshman year because she wasn't sure how much she'd be able to develop as an aspiring materials engineer. She quickly found out that there was a need for someone with her skill set on the team.
"I wanted to get involved in something that would give me experience relevant to my future career, challenge me, and introduce me to highly motivated people. Solar car met all the criteria," she said.
In addition to developing her technical engineering abilities, she said PrISUm has also allowed her to develop other soft skills like communication and leadership, which are key to being an effective engineer. Though not the first, Eckert is one of the few women throughout the team's history to serve as an assistant project director. Her responsibilities in this position include overseeing administrative duties, developing partnerships with sponsors and procuring necessary supplies.
Even though she's now one of the team leaders, Eckert still enjoys working alongside the underclassmen and new team members to contribute to the manufacturing operations in the shop. Through this she feels that she has a better understanding of the happenings on all of PrISUm's sub-teams. She also feels that it helps to develop a good team culture, something she hopes to influence to continue fostering inclusivity of women on the team.
"To young women and girls who have an interest in the STEM field, take initiative. Jump at the chance to take on projects you're interested in, even if they scare you, because you'll learn from them," she said.
The team is building its current model with the American Solar Challenge and the Formula Sun Grand Prix in mind, and therefore the car will meet the specs for those particular competitions. Though little is known about the future of these competition because of COVID-19, the team is ready to get back on the road.
For Holm, being part of Team PrISUm has been a dream of his since he was six years old. Growing up in Ames, he first saw the team's 8th car, Fusion, as part of a VEISHEA parade. He continued following the team as he grew older, and even watched coverage from their competition at the Bridgestone World Solar Challenge in Australia in 2017. Much like Eckert, Holm too hopes to inspire the next generation of Team PrISUm.
"Ultimately, I joined PrISUm because the team's mission of using the car we spend several years building to convince younger students to enter STEM really speaks to me. I've been interested in STEM for almost my entire life, because of the team, and I'd love to do the same for another six-year-old somewhere out there," he said.