Within a year, Evan Hundley ('19 indust engr) went from sitting in an Iowa State classroom to working the frontlines of the COVID-19 pandemic on HNI's rapid response team. She accepted a position at HNI immediately following graduation in their early career development program.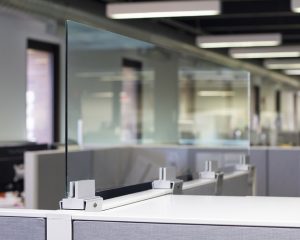 HNI is a parent furniture company and a leading providing of workplace furnishings and residential building products. In recent years, the push has been to make workplaces an open collaborative environment with everyone connected. But when COVID-19 hit, HNI saw the need to outfit offices to make work safer.
"The fact that our company has been able to pivot so quickly is really impressive. How we are able to go after helping companies keep their employees safe is really exciting and I'm really glad I got to be a part of it," Hundley said.
Adjusting to the demand
Offices were scrambling to try to put separation back into their workplace to promote physical distancing. Workplaces needed creative, inexpensive quick solutions, which is why HNI formed their rapid response team.
Hundley said, "That's why this team was formed was to answer those needs and make sure we aren't only helping others come back more safely, but we are also helping our company go through this with minimal damage."
The normal production timeline is over three years from the initial design to production. HNI's rapid response team has been able to condense the timeline down to four or five weeks.
Hundley joined the team in May, about two months after it began at the beginning of COVID-19.
"We are trying to work really fast, getting these solutions out three months from now isn't fast enough. People need these solutions now," Hundley said.
Success in products
In March, HNI released its first big product: hand sanitizer stations. After seeing hand sanitizer stands were sold out everywhere, they knew they had all the capabilities of making them. They designed it in about a week and started creating it. Once they saw the success of that product, they put the team in place to go after the other market opportunities.
Since development, the team has produced foot pulls so employees can open doors with feet instead of touching them with their hands, both freestanding and wall-mounted PPE stations, which hold different sized gloves and tissues, and multiple different versions of screen options to add separation between workstations, panel stackers and a work from home desk.
Iowa State preparation
Hundley grew up the daughter of an engineer and has always enjoyed problem-solving, math and science, which is what engineering is all about. These skills lead her to pursue engineering at Iowa State.
"Graduating with an engineering degree from Iowa State is not easy and something people should be proud of. You always face obstacles whether it be a certain class or time management, you learn how to handle yourself and deal with obstacles calmly and move on and get to a solution," Hundley said.
During her time at Iowa State, Hundley was an accomplished member of the swim team earning many accolades including Big 12 Women's Swimming and Diving Scholar-Athlete of the Year in 2019. Hundley credits both her experience in the classroom and the pool for preparing her to take on her the professional challenges COVID-19 brought on.
"In swimming, sometimes you hit a wall and don't improve for years. You just have to put your head down and continue to grind through. There are a lot of times in product design where you design something, and somebody tells you it isn't going to work after putting in all this time and effort. Having that mental toughness to be able to work through challenges like that has really paid off in this position," Hundley said.