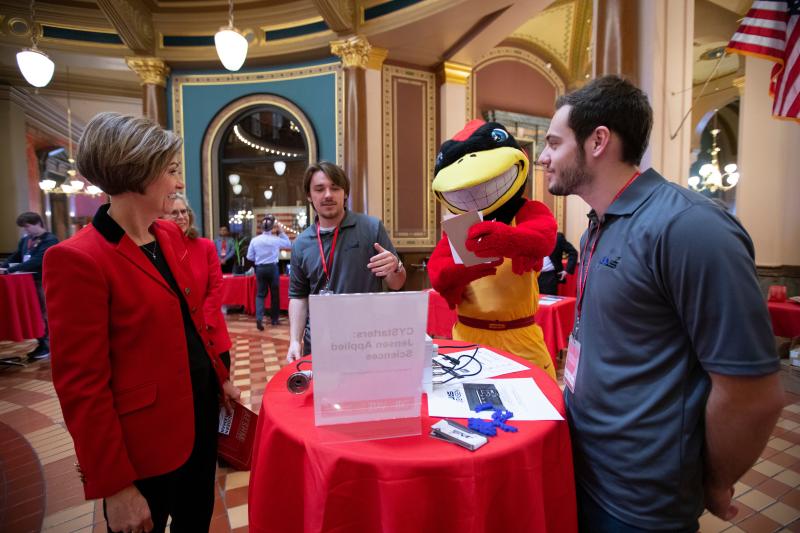 In "The Dark Knight" movie trilogy, Bruce Wayne (i.e. Batman without the mask) ventures into the Applied Sciences division of Wayne Enterprises. This is where he develops his unique, innovative tools for fighting crime in Gotham City. As major movie buffs and aspiring entrepreneurs, this served as the inspiration for the Jensen brothers when they were developing their own company.
"The Applied Sciences division of Wayne Enterprises is essentially just a financial cover up to hide the funding of his Batman-vigilante lifestyle, spending vast amounts of money on R&D to develop the Batmobile and his suit. We slapped our last name, Jensen, in front of Applied Sciences, and we knew immediately that it was a fitting name for our company, though our aim is a bit different than Batman's," Cole Jensen said with a laugh.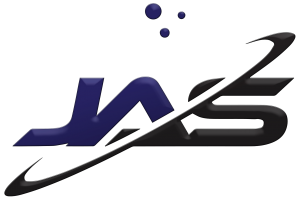 Cole and Dillon Jensen launched Jensen Applied Sciences (JAS) in January 2019. JAS is a cloud technology company providing smart monitoring solutions to the Midwest. The company's main focus right now is a fleet of smart sensors for the craft brewing industry, which collect data and allow brewers to visit an online dashboard (which they call "Mission Control") to analyze their beer data, configure alerts, and to make the brewery more efficient and automated.
The idea first came about when Dillon was working on a small side project for a neighbor-owned craft brewery in suburban Minneapolis while still in high school. Through this experience, he realized how they could collect real-world data and leverage cloud technology to brew better beer. After brainstorming some business ideas with his older brother, Cole, the duo quickly realized that these tools could also be applied outside the world of craft beer.
"Since launching JAS in 2019, the idea has grown and pivoted, but our vision has stayed the same. This means bringing the benefits of high-level technology, like IoT, cloud computing and machine learning, to local communities. Currently almost all the implementation and improvement of this technology is found in large corporations, because it has not yet funneled down to each and every street corner, but this is what we are trying to accelerate," Dillon said.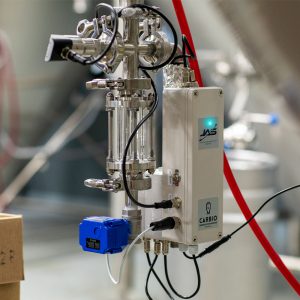 The two brothers split up their responsibilities based on each person's strengths and interests. Cole, who graduated with his B.S. in mechanical engineering in the summer, handles the hardware and engineering side of the operation. Dillon, a senior in computer science, manages the software and the cloud. They work together on other aspects and said they are always looking for ways to "innovate, validate, grow and scale."
Cole said that much of what he learned in the core team engineering design courses (ME 170, ME 270, ME 415) has been applicable to operating the business, adding that the concepts and methods he learned in fluids and thermodynamics have also been helpful as well as the content covered in the management classes he took through Iowa State's Ivy College of Business. Dillon, too, has been able to apply things he learned in the classroom to the business.
"Iowa State University has definitely made me expand my horizons as a computer scientist," said Dillon. "I took the class work, theory and practice from the curriculum and combined that with my JAS experience to improve my confidence and give me tools to support running JAS in a way far beyond what I expected when I first came to campus," Dillon said.
And it's not just what they learned in the classroom that helped them to get where they are now. The duo have been involved with various entrepreneurial activities and events hosted by the university. However, it has not been without struggle.
Cole first participated in the engineering pitch competition in 2019, and by his own judgment, "it went terribly." So, he and his brother re-grouped to discuss how they could improve their approach, and Dillon ended up winning the LAS pitch competition. In the following months, Cole and Dillon participated in more pitch competitions both on campus and even as part of the Iowa State Fair in Des Moines.
"Despite my failure at the 2019 engineering pitch off, I actually won that same event in 2020. So that was pretty cool and a very proud moment for me. It felt like quite the comeback," Cole said.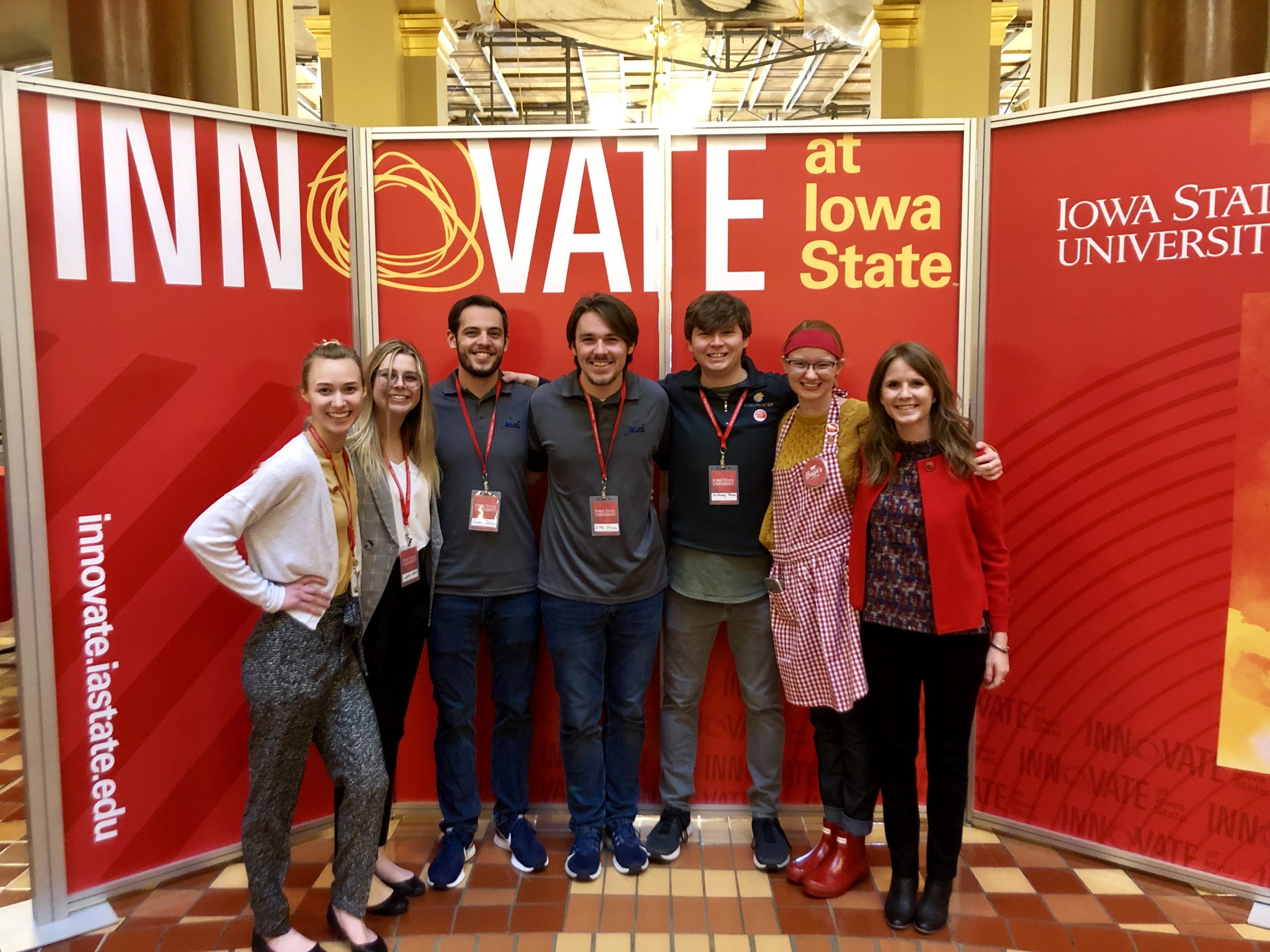 Since that disastrous first showing, Cole estimates that he and his brother have won six or seven competitions. Dillon has been involved with both the Cystarters entrepreneurship accelerator program and the Entrepreneur Club at Iowa State, both of which have contributed to his professional development.
"My public speaking skills have gone up, and my nerves have gone down," said Dillon. "I love connecting with other student entrepreneurs and motivated people alike. It definitely seems like being involved with the community has both improved my credibility and given me great feedback for how to run a business as a student."
JAS is currently a part-time job for both Cole and Dillon. Dillon is a full-time student, while Cole started his career as a manufacturing engineer with Rolls-Royce in Indianapolis, Indiana after graduating from Iowa State. He interned at Rolls-Royce in summer 2019 and also completed a co-op with Mercury Marine while he was a student.
However, Dillon said he hopes fully to commit his time to JAS when he completes his B.S. in computer science in spring 2021.
"My main goal is to pursue JAS full time, and not have to take on any other responsibilities or jobs that would distract me from growing JAS. I believe I am going to achieve this goal, but there is still work to be done, with scaling JAS and improving our consistency in terms of landing custom solutions and selling our existing products," Dillon said.
---