Dillon Jensen in a student in computer science and he plans to complete his B.S. in Spring 2021. Along with his brother, he co-manages the company they founded, Jensen Applied Sciences.
---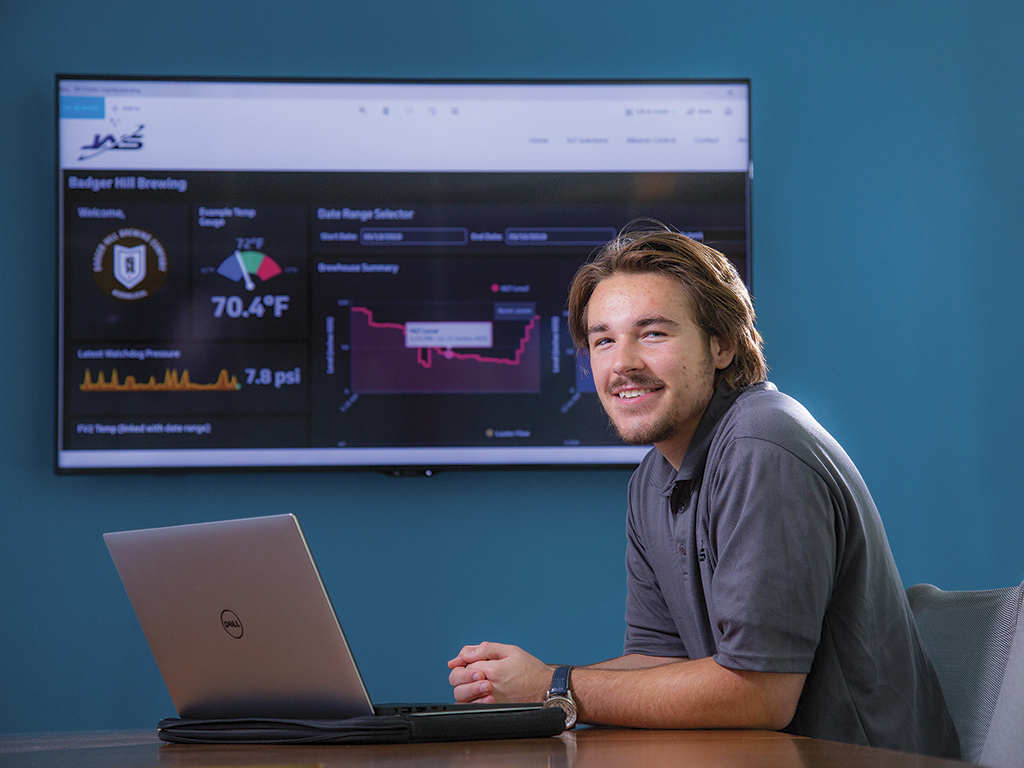 Why did you choose to attend ISU?
Iowa State is a great school for engineering and STEM in general. I felt confident their computer science program would definitely be strong. It was also a good distance for me. Three hours is away from home, but not too far to get homesick. Plus, since my brother Cole was already going to ISU, it just seemed like a good decision to make.
Why did you choose computer science as your major?
I was always interested in technology, computers, cell phones, TVs seemed like magic, so I wanted to understand what could possibly be making this stuff work, behind the scenes. Back in freshman year of high school, I asked my mom to take me to Barnes and Noble, and I bought a really thick book on programming, and I loved it immediately. It was a mental challenge, it was interesting, and it could give me the ability to create ANYTHING, a business, a video game, an app, and it could potentially help land a good job, for later in life.
Did you take any business classes or other courses that provided you with the know-how for starting and operating your business?
I have not taken any business courses at ISU, but I feel my deep involvement in the ISU entrepreneurship community makes me feel like an honorary business student!
I understand that you were also involved with various pitch competitions and other entrepreneurial activities at ISU. Tell me about some of the particular competitions/activities you were involved with and in what ways did these opportunities contribute to your professional development?
I have been to probably every business/entrepreneur event and pitch competition that was possible for me to attend. I have pitched my business both formally and informally, so many times, it is second nature at this point. My public speaking skills have gone up, and my nerves have gone down. Most notably, I was a member of the 2019 Cystarters entrepreneurship accelerator program. I am also a member of the Entrepreneur club here at ISU. I love connecting with other student entrepreneurs and motivated people alike, and it definitely seems like being involved with the community has both improved my credibility and given me great feedback for how to run a business as a student.
When do you plan to graduate? Do you have any sense of what kind of career you'll look for after graduation?
I am on track to graduate Spring 2021. My main goal is to pursue JAS full time, and not have to take on any other responsibilities or jobs that would distract me from growing JAS. I believe I am going to achieve this goal, but there is still work to be done, with scaling JAS and improving our consistency in terms of landing custom solutions & selling our existing products.
What are some of your interest and hobbies outside of school/work?
I personally really appreciate chess, reading, spicy food and hard rock/metal music. Together my brother and I both share an interest in cars, movies and traveling.
---