Jordan Girolamo, senior in construction engineering, and Charles Kolar ('20 mech engr) have been named recipients of the ISU Alumni Association's Wallace E. Barron All-University Senior Award. The award honors outstanding seniors who display high character, outstanding achievement in academics and university/community activities, and promise for continuing these exemplary qualities as alumni.
Jordan Girolamo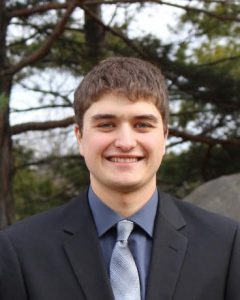 Jordan Girolamo is the definition of a servant leader.
While balancing a taxing course load in construction engineering, Jordan throws himself into student organizations. He has led his fellow classmates in Associated General Contractors (AGC), the National Electrical Contractors Association, the Mechanical Contractors Association, and more. Not only has Jordan traveled with these groups to national competitions, but he has also directed each in service projects. One example alone: Jordan has given over the last four Thanksgiving and spring breaks to travel with AGC members to communities across the US – from Texas to Tennessee – devastated by natural disasters.
Jordan volunteers his time throughout Ames, including the Iowa State University Family Resource Center, Heartland Senior Services, and ChildServe of Ames. This spring, he will serve as an undergraduate teaching instructor for the challenging capstone course in his major. As competent of a leader as Jordan is, he is also a mentor. One of his nominators observed, "He has stepped aside to let others take leadership roles that he could have clearly done … he coached and mentored others to help them develop and gain confidence."
The highest compliment paid to Jordan could be praise of his solid character. "I have found Mr. Girolamo to be one of the most honest and hardworking students I have ever known," a nominator shared. "He is of high character and holds himself and his peers to a challenging level of integrity and diligence."
Charles Kohler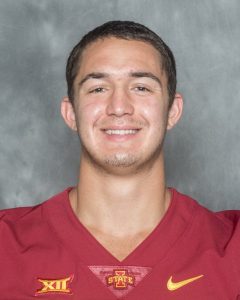 If there is one thing you can say about Charles Kolar, it is that he never lets an opportunity go to waste.
Charlie is a student-athlete at Iowa State University, balancing a heavy class load in mechanical engineering while training to crush opponents on the football field as one of Iowa State's most prolific tight ends in the program's history. The son of two professors, Charlie will "do whatever it takes to earn the perfect score" according to one of his nominators. These words are true both on the field and in the classroom.
Charlie has earned many recognitions, including First Team All-Big 12 honors and All-American honors, and he is a National Merit Scholar. When he is not playing football, studying, or sleeping (of which he does little), you can find Charlie visiting Mary Greeley Hospital to volunteer or reading to children at a local elementary school. This volunteerism has extended to various projects throughout Charlie's time on campus, including Marshalltown tornado relief, service with Victory Day and ExerCYse Time, and more. He is active in undergraduate real-world research, demonstrating the Iowa State innovative spirit, and is a member of the Student Athlete Advisory Committee (SAAC).
In short, Charlie has a great love for Iowa State and the opportunities that it represents for both himself and Cyclones everywhere. As another one of his nominators wrote, "He shows up with incredible energy every day to make himself and his fellow teammates and classmates better."
Story courtesy of the ISU Alumni Association.