Jordan Girolamo, senior in construction engineering, has been named a recipient of the ISU Alumni Association's Wallace E. Barron All-University Senior Award. The award honors outstanding seniors who display high character, outstanding achievement in academics and university/community activities, and promise for continuing these exemplary qualities as alumni.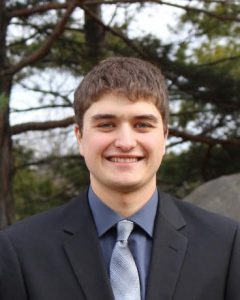 Jordan Girolamo is the definition of a servant leader.
While balancing a taxing course load in construction engineering, Jordan throws himself into student organizations. He has led his fellow classmates in Associated General Contractors (AGC), the National Electrical Contractors Association, the Mechanical Contractors Association, and more. Not only has Jordan traveled with these groups to national competitions, but he has also directed each in service projects. One example alone: Jordan has given over the last four Thanksgiving and spring breaks to travel with AGC members to communities across the US – from Texas to Tennessee – devastated by natural disasters.
Jordan volunteers his time throughout Ames, including the Iowa State University Family Resource Center, Heartland Senior Services, and ChildServe of Ames. This spring, he will serve as an undergraduate teaching instructor for the challenging capstone course in his major. As competent of a leader as Jordan is, he is also a mentor. One of his nominators observed, "He has stepped aside to let others take leadership roles that he could have clearly done … he coached and mentored others to help them develop and gain confidence."
The highest compliment paid to Jordan could be praise of his solid character. "I have found Mr. Girolamo to be one of the most honest and hardworking students I have ever known," a nominator shared. "He is of high character and holds himself and his peers to a challenging level of integrity and diligence."
Story courtesy of the ISU Alumni Association.