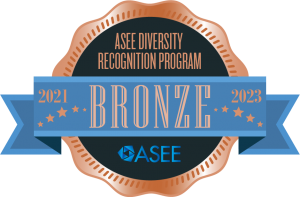 The Iowa State University College of Engineering has received recognition from the American Society for Engineering Education (ASEE) for its commitment to diversity and places the college among the nation's leaders in inclusive excellence. The ASEE Diversity Recognition Program was created to publicly recognize engineering colleges that make significant and measurable progress in increasing diversity, inclusion and degree attainment outcomes of their programs.
"Our faculty and staff are very proud of this achievement and honored to receive such acknowledgment," said Sam Easterling, dean of the college. "This recognition demonstrates our ongoing commitment to diversity and inclusion in both policy and practice throughout our college."
The College of Engineering received the bronze level recognition. ASEE is currently developing future criteria and review processes for silver and gold recognition and colleges will be required to earn each additional level in progressive order (bronze to silver to gold) and remain in each category for a minimum of one to three years before applying for a higher level in future application cycles.
The ASEE bronze level recognition indicates each recipient meets the following requirements:
Established baseline support for groups underrepresented in engineering.
Quantifiably analyzed and assessed unit composition, policies, culture and climate related to all groups underrepresented in engineering.
Implemented programs and initiatives that strengthen the K-12 or community pipeline thereby reducing significant barriers related to long-term growth.
Developed a diversity, equity and inclusion action plan and timeline focused on continuous improvement.
"This recognition highlights the array of student services we provide that focus on the academic, professional, social development and success of our students who hold a variety of unique identities," said LeQuetia Ancar, assistant director of student services and director of multicultural student success. "The honor acknowledges that we have been and are continuing to work at meeting the holistic needs of our underrepresented students."
"Our current students who become future practicing engineers will lead us to a cleaner, healthier, safer, and more sustainable world," said Michelle Soupir, professor and college equity advisor. "The next generation of engineers, coming from varied backgrounds and life experiences, will offer new and diverse perspectives for meeting these technological challenges."
For a complete list of schools that have received this prestigious ASEE award click here.