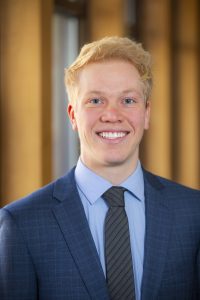 Major: Construction engineering
Hometown: Des Moines, Iowa
Clubs and Activities: Honors Program, study abroad, board game enthusiast
Awards and Honors: President's Award for Competitive Excellence, Cardinal Leadership Scholar, Ross White Engineering Scholarship, Seward Ratcliffe, Galloway Scholarship, David C. Moll Engineering Scholarship
Erik Francois is from Des Moines, Iowa, a short drive from the home-away-from-home he's established in Ames. However, that didn't stop him from taking advantage of study abroad opportunities, traveling to Wales, South Britain. There, he was MVP of the basketball team, an accomplishment that's right up there with the numerous scholarships and academic honors he's received as a construction engineering student at Iowa State.   
Heavily involved in the University Honors Program, Francois is leading a seminar for other students to fulfill both his own and other students' graduation requirements.  
"I would say Emily Wilcox, assistant director for first-year honors program, has been my most influential mentor while at Iowa State," Francois said. "You have to take two seminars in the honors college to graduate with honors and you have to do a project, so my project was leading one of those seminars for other students and she's been helpful for me in that respect in putting that together and developing my skills."  
The relationships Francois has formed within the University Honors Program has made his time and experiences at Iowa State something he'll always remember.  
"I'm proud of what I've done academically, but I think what I'll remember from Iowa State are the relationships and friendships within the Honors Program and my college. I think that's what'll stick with me longer than the academic achievements and superficial stuff."
Francois encourages underclassmen to embrace curiosity and vulnerability and use those two traits to help guide their learning while studying at Iowa State – engineering major or not.  
"Those have become strengths for me as a learning tool, and I would just say I think those are extremely valuable," Francois said. "Because being vulnerable and uncomfortable, I think that's how we grow." 
In his free time, Francois enjoys all aspects of the outdoors from foraging to hiking, climbing and running. He also enjoys playing board games. "Catan" was the game that started his obsession, but currently, a game called "Terraforming Mars" is dominating his game time.  
Post-graduation, Francois will be employed at MODUS, a consulting firm. Francois also hopes to take a long-term cross country skating trip on a longboard.