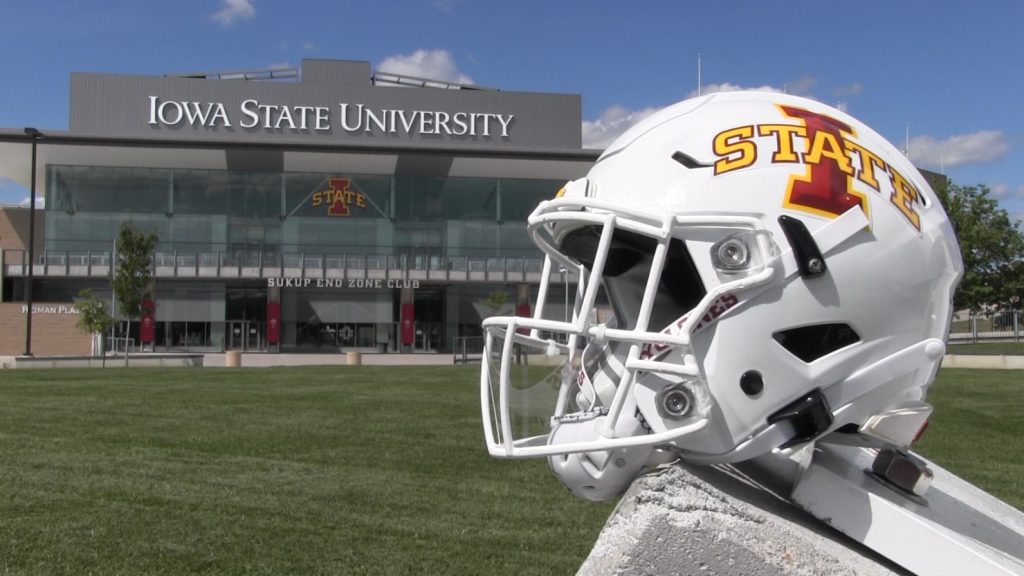 With the start of the college football season upon us, we hear from two #CycloneEngineers who collaborated with equipment managers for Iowa State University to create an inexpensive way to modify the team's helmets to be functional for the players, while also reducing the potential spread of COVID-19. The "Cyclone Shield" has made Iowa State's football program safer, and plans have been made available at no cost to the general public, and have since been used by over 35 high school and club teams across the state of Iowa.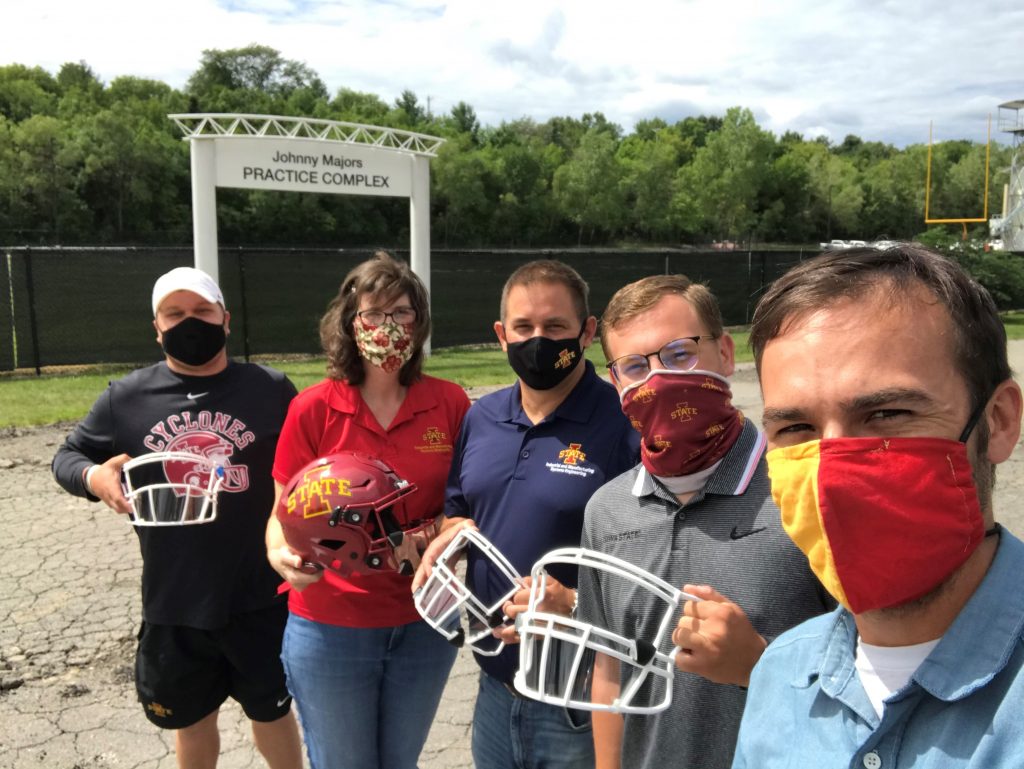 Announcer
Welcome to Factor Analysis, an in-depth conversation of engineering knowledge from the classroom to the field, and topical issues surrounding work and life from an engineer's viewpoint.
Nick Fetty
2020, a year no one could have predicted. A global pandemic causing schools and businesses to close and altering our entire lives. Social and political unrest, protests, a derecho ripping through the state. Remember when you hadn't even heard of a derecho? Dueling hurricanes…Iowans, Americans, humans, are reaching out to grasp any sense of normalcy. As fall approaches, football season has a unique ability to bring comfort to fans, even with extreme precautions being made including empty stands, and a shortened season. Football as an escape for many, even for just a few hours each week, but COVID-19 is still a very serious risk for players, coaches and staff. With this in mind, the Iowa State Athletic Department, coaching staff even the equipment managers investigated each and every way to preserve their season while keeping the players safe. Staff in the equipment room wanted a simple, inexpensive way to modify the helmets to reduce the spread of the virus between players during both practices and games. Fortunately, for the equipment managers, they didn't have to look far to get the help they needed. Leslie Potter, teaching professor for the Department of Industrial and manufacturing systems engineering explains…
Leslie Potter
This is gonna sound like a crazy story, but I was actually walking my dog when I got a phone call early in the morning and I saw that it was a 294 phone number and of course, that's on campus and I thought well I wonder who that is. So I answered and it turned out to be Chase Clark, and I had not met Chase, but I had worked with Jonathan Sedgwick in the athletic department's football equipment operations. And so as soon as Chase introduced himself to me, I knew right away who I was talking to, and on the call with him was Michael Dreyer who is also one of the equipment managers for the football team. They, they were very clear very quickly about what their situation was. They were telling me, explaining to me that the team needed to be in gear, in pads practicing in just a matter of weeks, you know, 20 days, I think, is actually the number that they had. And they wanted to know if I there's any possibility that I would be able to connect them with people who could help figure out a solution to the problem of how to create a better COVID mask for the football helmets. And I talked to them for just a few minutes and got a good sense of what it was they were looking for in terms of constraints. And said, Let me make a few phone calls. I will be back in touch. I immediately hung up the phone. I called Dr. Kremer, who's the department chair for the industrial and manufacturing systems engineering department. And I explained to her what had just happened and I said, Dr. Kramer, you know, I really think I can we do this, I would really like to be able to do this. She said, Absolutely. Let's put a team together. And she suggested that I call some some people, including Dr. Matt Frank. And so as soon as I hung up from her, I was on the phone with Matt. Now keep in mind, I'm still walking my dog. So all this is happening as I'm trying to manage navigate my phone and talk with all of these different people. Dr. Frank was onboard immediately, and he was the first person to say, Hey, I think we need to get Aaron Jordan involved. And, of course, that sounded like a great idea. So that is how it came about. Now, the fact that we were talking on the phone in the morning, just trying to understand what was even needed. And then in the afternoon, we were already zooming as an entire team, including the folks at the equipment facilities, the folks in industrial engineering in Ames and myself, who was actually out of town at the time was amazing. And by the next day, Dr. Frank had already started prototyping.
Matt Frank
When you look at the design, it seems exceptionally simple in the manufacturing press with the cricket seems pretty simple also. But that's kind of the point. We need something that was very easy, very simple and very low cost and what we have here it can be made for as little as 20 cents apiece, and can be made in someone's house, which is exactly what we needed at this time to get it out to people.
Nick Fetty
That was Matt Frank, a professor of industrial and manufacturing systems engineering at Iowa State, who also serves as the John B. Slater professor in sustainable design and manufacturing. While the project started as a way to help the Cyclone football team specifically, it quickly turned into a broader effort. The researchers decided they would make their design available to the public. They wanted high schools and other teams with limited resources to have the ability to play their season, while also taking all of the necessary precautions.
Leslie Potter
Not only is it important to our team, but we want all of our competitors to wear it to me, because we think it will make a difference. You know, we do understand and appreciate that it's not going to completely eliminate exposure. But we also think that having something blocking those direct exhalations is better than not having anything at all. So it actually redirects a person's air when you breathe onto a flat, non pervious substance it moves you know, it changes directions. So we are not only wanting our team to have it, but our competitors and of course, then all of the football players in our, you know, Iowa high schools and around the country who are in this season and trying to figure out how to mitigate risk, that was so important to us that we make it available and one of the points I guess I would make is that it was important to us that our product be reproducible, easily and efficiently. We can make several shields in just a few minutes. It was also important that they not cost a lot of money because cost is a huge constraint, especially when you're talking about high school programs.
Matt Frank
When we realized that the cyclone shields could be made in people's homes, we thought that the most impact we could have is if we could get it out to as many high schools in the state of Iowa as quickly as possible. And so we made the decision that we were going to take all the designs, all the instructions, the user manuals, everything that anybody would need to make these and put them on a public site for free, and see how far we could get the word spread about the cyclone shield.
Nick Fetty
Industrial engineers are always looking at ways of improving systems and processes to make them more efficient, and this project was no different. Once the design was released to the public, the researchers sought feedback so they could potentially improve things before the start of the season.
Leslie Potter
The response has been overwhelmingly positive. We are so excited, first of all for our own team. The initial day took just a little bit of you know, getting used to and anytime there's change people have to think about it, process it, how is that going to work? There were some, you know, initial doubts maybe about how resilient the material would be, but they've been practicing in gear for for quite a few days now. And they're having an occasional tear here and there, but nothing bad and the equipment managers are real happy with it. There have been some concerns expressed about quick changes in temperature. Of course, in Iowa, when you have a lot of humidity and you go from air conditioning to heat, you might see some fogging and that's one of the things that we're going to continue to work on is testing different kinds of defogging chemicals. And so as soon as we have the results for that, we'll also make that information publicly available.
Matt Frank
Actually, some of the greatest feedback we get is when we get no feedback at all, meaning they read the instructions, it was clear enough, they made the shields and they didn't have any problems. Quite probably the funniest story I've heard about the shields is that the only problem that is prevalent is that players forget that they have a shield and they try to squirt water in their mouth and it sprays everywhere.
Nick Fetty
And it's projects like this that really display the diversity and applicability of an industrial engineers skill set.
Leslie Potter
I think it's really important to make a couple points about industrial engineering. And, of course, this is a football story. But one of the things that I absolutely love telling my students is that if you are an industrial engineer, you can go anywhere and be involved in any kind of industry. And so as a department, we are extremely grateful for the opportunity to work with our athletic department and be able to help them I'm so glad that they called us when they had a need that they thought to reach out to us and that we were able to contribute to getting them a solution quickly and inexpensively. It's such a gratifying feeling to be an industrial engineer and see your efforts in practice.
Nick Fetty
Much like all 11 players on a football team to come together and Paul their assignment to ensure a play is properly executed, the researchers too had to adopt a similar teamwork mentality.
Matt Frank
It's pretty exciting that from the time that we were informed about the problem that we had 150 shields ready to install 12 days later. And a lot of that came down to the fact that we had all the right people at the right time, a clear vision from ISU football. And then while we're at it, we have an industrial engineer who's a quarterback, who could test it out. We really couldn't have been more fortunate.
Nick Fetty
Iowa State's season kicks off on September 12 when the Cyclones host the raging Cajuns from the University of Louisiana. For Frank, Potter and the rest of the team, it's efforts like this that advanced Iowa State University's mission as a land grant institution.
Matt Frank
The reality is that we're a land grant institution, and we're supposed to help support the people of Iowa. And it's kind of rare that we get the opportunity so clearly, to make an impact in young people's lives and hopefully improve safety, than a project like this with the cyclone shields, and so getting it out to those coaches and parents was pretty exciting for us.
Nick Fetty
And that's gonna do it for this episode of Factor Analysis. Thank you for joining us. And if you haven't already, hit that subscribe button and make sure you don't miss a single episode.
Announcer
Factor Analysis is produced by Iowa State University's College of Engineering. For a list of ways to keep up with the college including more podcasts, social media and apps go to engineering.iastate.edu Music by Lee Rosevere and used under creative commons license.
Transcribed by https://otter.ai