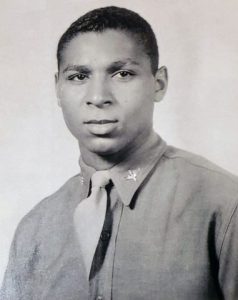 The Dubuque Regional Airport is renaming its terminal in honor of Robert L. Martin, World War II combat pilot and member of the Iowa State University Department of Electrical and Computer Engineering (ECpE) inaugural Hall of Fame class.
The Dubuque Regional Airport Commission voted unanimously to endorse and accept a petition filed to name the terminal in honor of the Dubuque native. However, it will cost an estimated $100,000 from supporters for the design construction and installation of a new monument that will commemorate Martin and his achievements.
Martin was born in Dubuque, Iowa. He graduated from Dubuque Senior High School and attended Iowa State College, now known as Iowa State University, where he later earned his bachelor's degree in electrical engineering in 1942. At the time, he was one of ECpE's first Black graduates.
After earning his degree, Martin became a draftsman with the Chicago Park District, where he spent 37 years of his career as a street lighting engineer with the City of Chicago, later achieving the position of Electrical Design Engineer.
During his time at Iowa State, he would visit the Martin House, according to Gabrielle Martin, daughter of Robert Martin. The Martin House was a boarding house for Black students attending Iowa State.
"I remember that Dad said at that time there was no student housing for black students, but there was a boarding house where students could eat. In that way, he was detached from campus," Gabrielle said.
Since its founding as a land-grant institution in 1858, Iowa State welcomed students of color, unlike many other American colleges. In 1896, Iowa State had its first Black graduate, George Washington Carver. Until the late 1940s, unofficial residence policies posed restrictions for students of color. The Martin house, to this day, is located at 218 Lincoln Way and is one of the only houses located on Lincoln Way, according to the Ames Historical Society.
Martin later joined the United States Army Air Corps during World War II and became part of the Tuskegee Airmen, the first Black military aviators in the U.S. Army Air Corps. Martin and his comrades of the 100th Fighter Squadron were part of the 332nd Fighter Group.
During his career in the Army Air Corps, Martin earned multiple service medals, including the Distinguished Flying Cross, the Purple Heart and the Air Medal with six Oak Leaf Clusters. On March 29, 2007, Martin received the Congressional Gold Medal in Washington, D.C., in commemoration of the Tuskegee Airmen.
"My dad was pretty humble. Every time he heard that someone would give him an award or recognition, he would just ask why," Gabrielle said.
"Then I would tell him that he went to war for a country at a time when there were people in the country that would just as soon lynch him than have him go to war for them, so it is a big deal. And he would just shrug his shoulders."
In an interview with the Dubuque Telegraph Herald, Airport Director Todd Dalsing said that federal regulations prevent the airport from using its own funds for renaming the terminal. To raise money for the memorial, a fundraising campaign has been organized by Kim Rowe and Dawnelle Gordon via GoFundMe. The campaign can be found here.
"As a Tuskegee Airmen, Captain Martin was not just a forerunner in combat missions. He was also a forerunner in the desegregation of the United States Military and the desegregation of America," Martin's online fundraising campaign page says. "Many in Dubuque, Iowa, today do not know one of the best and brightest of this unprecedented group is a son of Dubuque."