Lionel Ouedraogo, mechanical engineering graduate student, earned the 2020 Educational Foundation Scholarship Award.
"It is with great honor and joy that I received this award. It showed me that all the effort and time I put in the work I do pays. Recei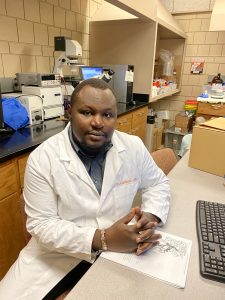 ving this award meant that between all the candidates that applied to this award my contributions to the automation, instrumentation, and systems field stood out and made a great impact," Ouedraogo said.
The scholarship is awarded by the International Society of Automation (ISA) for a student's outstanding potential to contribute to the automation, instrumentation and systems field.
The scholarship helps fund Ouedraogo's tuition and related expenses for research and other initiatives. Additionally, students are granted a one-year complimentary student membership to ISA.
Currently, Ouedraogo is working as a graduate student in the Nicole Hashemi lab to improve an organ-on-a-chip system developed in their lab. Hashemi is an associate professor of mechanical engineering.
Ouedraogo said, "I  am developing a new sensor that will help quantify and qualify the exchanges that take place between a mother and her fetus in the placenta and how the cells react to these changes and I am also working on automating the data collection system that we have in place for the chip."