Longtime industrial engineering chair Joseph Walkup (1942-1973) always said, "Engineers can do anything." For industrial engineering alum Kim Ditter, that "anything" happened to be a career in marketing.
Ditter grew up in Mason City, Iowa, and because of her strengths in math, her mother encouraged her to pursue a technical field. Ditter was exposed to industrial engineering (IE) specifically through an older neighbor, who at the time was studying IE at Iowa State University. The neighbor was eager to talk about Iowa State's strong program and the career opportunities available for IEs while visiting home during breaks. This catalyst led Ditter to Ames.
"I looked at other schools, but Iowa State seemed the obvious, best choice because I had such a well-respected engineering college right in my backyard with in-state tuition," said Ditter. "I was one of those rare students that started my freshman year as an IE major, and graduated with that major."
Despite being committed to IE from the start, Ditter's time was not without struggle. Physics, in particular, gave her such difficulty that she seriously considered switching majors. However, she persevered and it served as a learning opportunity for her.
"My engineering career almost ended before it even started," she said. "But nearly failing that physics class taught me what I really wanted and to persevere, even through the most challenging times."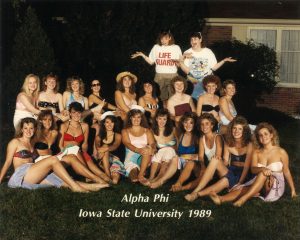 Another memorable experience for Ditter was her senior design course with John Jackman, who is now an associate professor of industrial and manufacturing systems engineering at Iowa State but is currently on administrative leave with an appointment at NSF. Ditter described Jackman's teaching style as "strict" and said many of the concepts seemed difficult to grasp. In the end though, she said that much of what she learned was directly applicable to her work early in her career.
Her involvement in various student groups and other activities at ISU also contributed to her professional development. She held various leadership roles in her sorority, Alpha Phi. She also served on committees for Engineering-Week, Homecoming and VEISHEA. She said these experiences taught her about leadership, collaboration and conflict management, which allowed her to set herself apart from other candidates during job interviews.
Ditter completed her B.S. in IE in 1992 and was hired as a manufacturing engineer for 3M. She worked at two different manufacturing plants in Missouri but discovered she wanted to use her engineering skills to work more closely with people.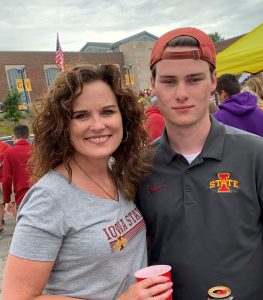 "I learned that while I loved engineering, process thinking, and designing and implementing system improvements, I was better at working with people than with machines," she said.
Therefore, she transitioned from the manufacturing side of 3M to the business side, specifically marketing. In this capacity, she spent three years living in Brussels, Belgium where she led a European marketing team for a key 3M business unit. She described the opportunity as "an amazing experience both personally and professionally."
After her stint in Europe, she landed in Saint Paul, Minnesota where she currently resides. In 2009, Ditter left 3M, "after seventeen terrific years," to work for Ecolab. Then in 2017, she became Vice President of Marketing for Coloplast, a medical device company headquartered in Denmark with its U.S. office in Minneapolis. As a marketer, Ditter said the emphasis is on the customers and understanding their needs, as well as making good business decisions for the company.
"My IE degree has been extremely helpful in giving me the skills to think analytically, translate customer needs to solutions, and make sound financial decisions," said Ditter. "In addition, having an engineering degree has given me credibility with customers in my marketing roles, whether I am talking to a plant manager about 3M products or a physician about a Coloplast solution."
Outside of work, Ditter stays busy with her triplet boys, who are all three currently seniors in college. Nick Lees is studying supply chain management at Iowa State, while Justin studies marketing at the University of North Dakota and Cooper studies communications at the University of Minnesota, Duluth. She also enjoys skiing and gardening as well as reading and is on the board for Friends of the Saint Paul Public Library.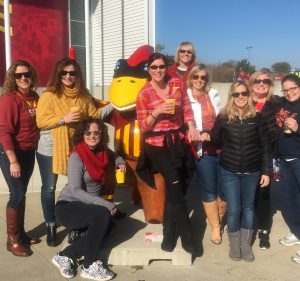 Even though she now lives more than 200 miles away from Ames, her memories from her alma mater remain close in her heart.
"We had so many great times in the A-Phi house, and some of my best friends to this day are A-Phis. Building the VEISHEA floats each year, and the parade was always great fun, too. We also spent a lot of time at the local establishments on Welch Avenue," she said with a laugh.
Ditter said that when she was in college, she never would have seen herself on the career trajectory she is on today. She encourages today's IE students to be opened-minded about their own career possibilities, particularly if they choose not to pursue a traditional engineering career with their IE degree.
"My Iowa State engineering degree was a terrific foundation for my career. While I no longer am a practicing engineer, I use these skills every day. I owe much of my career success to Iowa State University. Loyal. Forever. True," Ditter said.