Five Department of Chemical and Biological Engineering (CBE) faculty members have received promotions effective with the commencement of fall semester.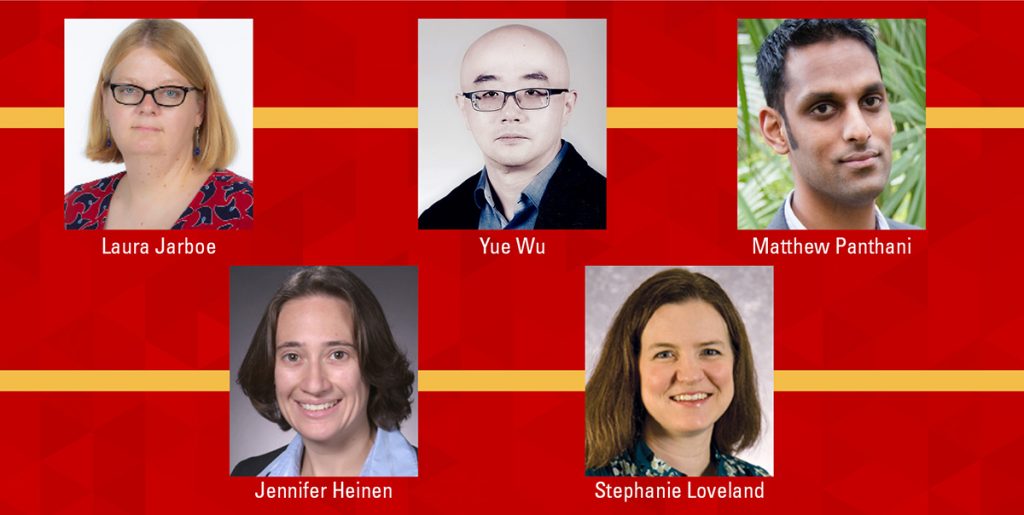 Laura Jarboe has been promoted to the rank of professor. She joined the CBE faculty as an assistant professor in 2008. She is a member of the Center for Biorenewable Chemicals (CBiRC) and her research focuses on substrate or product tolerance in bacteria, fermentation of biomass-derived sugars and reverse engineering evolved bacteria and soil attachment by bacteria. Jarboe was also recently recognized as recipient of the College of Engineering's Outstanding Achievement in Teaching award.
Yue Wu has been also been promoted to professor, and will carry the title of Herbert L. Stiles Professor of Chemical and Biological Engineering. He is also CBE's director of research. His own research deals with novel 2D transition metal carbide and nitride materials and alloy based advanced coatings and heterogenous catalysis; scalable nanomaterials production and processing, with an emphasis on materials for extreme condition requiring ultra high chemical stability, hardness, and thermal conductivity; and thermoelectric based energy harvesting and solid-state cooling. Wu was recently awarded with the ISU Mid-Career Achievement in Research honor.
Matthew Panthani has been promoted to associate professor with tenure and is a Herbert L. Stiles Faculty Fellow. Panthani, who was a recipient of the prestigious National Science Foundation CAREER Award in 2019 and an Air Force Office of Scientific Research Young Investigator award in 2017, has a research program that focuses chemical synthesis and assembly of nanostructured electronic materials, solution-processable/quantum dot electronic devices, photovoltaics, renewable energy, and energy efficiency.
Jennifer Heinen has been promoted to the rank of teaching professor. Heinen teaches undergraduate courses, including the introductory ChE 160 course, teaches capstone design for seniors and serves as the department's director of undergraduate education. She has been part of the ISU faculty since 2008.
Stephanie Loveland has also been promoted to teaching professor. She joined the CBE faculty in 2002. Loveland chairs the department's safety committee and is the faculty representative for the ISU student chapter of the American Institute of Chemical Engineers, a nationwide organization that supports chemical engineering undergraduates. She also coordinates the annual Oviedo, Spain summer lab experience for chemical engineering undergraduates.