Ravi Tutika, a materials science and engineering Ph.D. student, won the prestigious Alan Gent Distinguished Student Paper Award for his paper entitled "Soft Multifunctional Composites Enabled Through Programmable Liquid Metal Microstructures."
The Alan Gent Distinguished Student Paper Award is an award dedicated to graduate student research in adhesion science, given by the Adhesion Society. The award's namesake comes from Alan Neville Gent, an English scientist whose research significantly contributed to the physics of adhesion and the fracture of rubbery, crystalline and glassy polymers.
Tutika's research on electrical properties in liquid-metal-based soft composites is guided by Michael Bartlett, Ravi's research advisor and assistant professor of materials science and engineering. "It was very exciting when Ravi was presented with this prestigious award, it is well deserved and highlights Ravi's strong contributions to soft, multifunctional materials," said Bartlett. Bartlett also received the award in 2013 as a Ph.D. student in Polymer Science and Engineering at University of Massachusetts, Amherst.
"My research is about new classes of soft functional materials enabled by gallium-based liquid metals," Tutika said. "I study the fundamental aspects of these systems and program them to enable cutting edge applications ranging from stretchable wearable devices to soft robotic applications."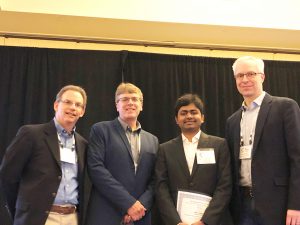 Tutika was selected as the award winner through a lengthy selection process. In the first stage, students from universities all over the world—including Seoul National University, ESPCI Paris, and many others–submit an abstract to the Adhesion Society Annual Meeting. This abstract showcases their research and contribution to their field.
Next, seven of the abstracts submitted in the first stage are selected as winners of the Peebles Award—a $750 travel grant put towards attendance at a conference where the student presents their paper. The highest-rated presentation at this symposium is the recipient of the Alan Gent Distinguished Student Paper Award.
The award recognition consists of a cash prize and a certificate sponsored by Henkel, a multinational chemical and consumer goods company.
In the near future, Tutika wants to leave his mark on smart materials research at Iowa State. After that, he looks forward to securing a position in the materials science engineering field and collaborate with other researchers.
"I see myself working in the soft hybrid materials development for advanced electronic applications," Tutika said.