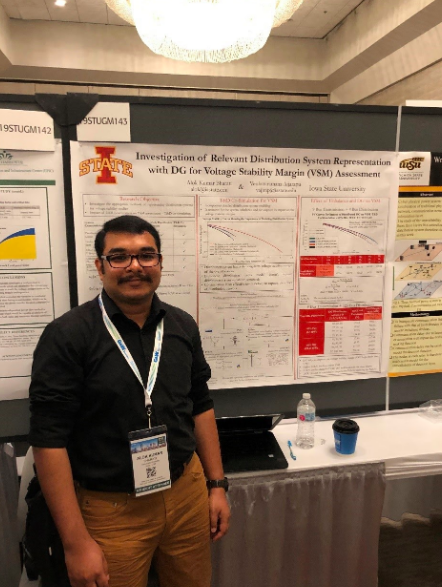 In the midst of a six-year career at General Electric (GE) working in research and development of low voltage switchgear, Alok Kumar Bharati felt it was time for a change. After already earning a bachelor's degree in 2009 from Visvesvaraya Technological University, India, as well as a master's degree from the Indian Institute of Technology Hyderabad in 2011, Bharati decided to further his education even more by pursuing a Ph.D. in electrical and computer engineering (ECpE) at Iowa State University.
"During my undergraduate days, I had realized that I like teaching and at some point in my career wanted to shift to become a faculty member," Bharati said. "With extreme support and encouragement from my wife and family, I was able to quit my job at GE to pursue a Ph.D. Currently, I am also being trained through the preparing future faculty program at ISU to become a successful faculty member in the near future."
Bharati's current work at ISU includes a project funded by the Electric Power Research Center (EPRC), focused on the integration and utilization of distributed energy resources (DERs) in the rural distribution system for voltage regulation. Other projects include research funded by the Department of Energy (DOE) and National Science Foundation (NSF), focused on the role of DER driven transmission and distribution (T&D) interactions in power system stability through T&D co-simulation. Bharati said the work is directly applicable to work being done in industry now.
"The projects that we work on are based on the real-world issues that the utilities are currently facing or problems they anticipate," Bharati said. "Some of the projects that we work on are futuristic and enable policy makers to make better decisions about grid operations and controls."
The main professor Bharati works with at ISU is ECpE Professor Venkataramana Ajjarapu. Much of their work is focused on power system stability and understanding the role of T&D interactions on power system stability, especially for scenarios with high proliferation of DERs. Bharati said he has received crucial guidance through the work.
"Dr. Ajjarapu is an excellent mentor and advisor," Bharati said. "He always encourages his students to think about tough technical problems for research and always thinks about how the research of his group is important to the industry and how it is practical. He mentors and encourages his students in their research activities with lots of discussions and deliberations."
Bharati said he has also received valuable support through EPRC resources and faculty.
"My favorite part of working with EPRC is interacting with Anne Kimber, Director of the EPRC, and the numerous industry contacts she has," Bharati said. "The EPRC enables lots of interdisciplinary research, and because we get to work on real-world research problems, thinking about the practical implementation aspects of these in our research gives us a unique perspective that makes us competitive after graduation."
Bharati said the opportunities ISU has given him have been very beneficial to his growth as a researcher and industry professional.
"ISU and the EPRC have been very welcoming," Bharati said. "ISU and the EPRC have provided a lot of opportunities to enable discussions with subject matter experts, industry personnel and technology managers at DOE and NSF that has been invaluable to me and has enabled my growth as a researcher in power engineering."
Currently, Bharati has secured an internship at Pacific Northwest National Laboratory for the summer of 2020, where he is working on dynamic T&D co-simulation and optimization in transmission and distribution systems for restoration application.