Bailey Righi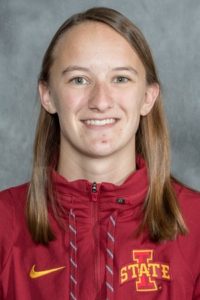 Major: Software engineering
Hometown: Blue Springs, Missouri
Clubs and activities: Iowa State Track & Field – javelin thrower, Student-Athlete Advisory Committee (SAAC), Fellowship of Christian Athletes (FCA), Digital Women, and German Club.
Awards and honors: Dr. Gerald Lage Academic Achievement Award (2020), Farm Strong Squad member (2019-20 school year), All-Cyclone Team – highest GPA on Women's Track & Field team (2018-19 and 2019-20), Fifth place in javelin at the Big 12 Outdoor Track & Field Championships (2019), Academic All-Big 12 Team (2019), College of Engineering Dean's List (every semester), Big 12 Commissioner's Honor Roll (every semester), Achievement in Intermediate German (2016-17 school year), Academic All-Big 12 Rookie Team (2017)
Who was your most influential mentor while at Iowa State?
I'd say my advisor, Jason Follett. He actually knows my great aunt, so he knew how to pronounce my last name from day one. He's been a great supporter these last four years and is always willing to help me with academic, career or life choices. I'm so glad I got to know him and we'll definitely keep in touch moving forward.
What would you consider your greatest accomplishments at Iowa State?
Besides getting to know so many people and pack so many experiences into a short four years, I'm proud of what I've done in my track and field career. It's been amazing. I'm so glad to have been able to keep playing sports at a high level. I'm a walk-on, but my hard work paid off because last season I placed fifth at the Big 12 conference meet, making me a letterwinner. My teammates were super excited for me when I threw a personal record to reach my long-time goal of scoring at the conference meet.
What's your favorite memory of your time at Iowa State?
Storming the field after the football team beat sixth-ranked West Virginia. The energy was crazy and it was quite the moment to take in. After I got down there I looked around and I was surrounded by so many fans who loved Iowa State.
What's your advice for first-year Iowa State engineering students? 
Try new things often. It can be a little scary to do something you haven't done before, but there's no need to worry, and you have nothing to lose.
What are your plans for after graduation?
My plans are to come back to Iowa State to finish graduate school in person and to compete in my last year of track and field. Unfortunately, I had to give up my job offer for this, but I believe it was the right decision for me.