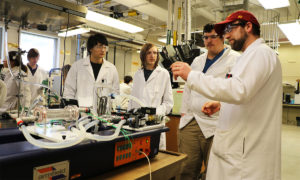 It's all about the opportunity for "hands on" experiences for chemical engineering students, especially freshmen. And new lab equipment that has been added to Iowa State's Department of Chemical and Biological Engineering (CBE) in Sweeney Hall is going to provide a perfect scenario for that. It was made possible by a gift from department alumnus Gary Griswold and his wife Mickie.
"Many engineering students are kinesthetic learners – which means they learn by doing," says Jennifer Heinen, CBE associate teaching professor and director of undergraduate education. "So, this new equipment will help students really grasp concepts they are learning in class and translate them to real-world situations."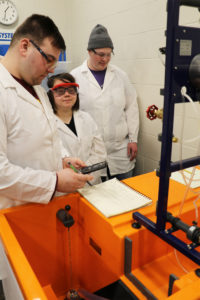 That's especially important when the equipment is being used by students enrolled in CH E 160, Chemical Engineering Problems with Computer Applications Laboratory. For most, it is their very first exposure to chemical engineering.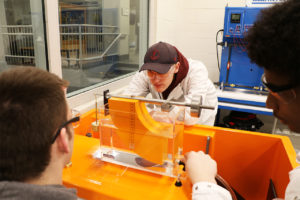 It's where they are introduced to engineering concepts and core topics such as unit conversions, working with charts and figures, performing data analysis and regression, and working with flow charts. Hands on activities with the new equipment are designed to reinforce this learning by providing exposure to practical chemical engineering concepts such as fluid mechanics and heat transfer. Experiments include determining centrifugal pump efficiency, measuring pressure losses in pipes and fittings, and determining heat transfer efficiency in a shell and tube heat exchanger.
Gary and Mickie Griswold are no strangers to helping undergraduates learn about chemical engineering in dynamic ways. In the fall of 2017 they created the Griswold Undergraduate Research Internship Program in CBE. Students are matched with CBE faculty and also work with graduate students to gain valuable experiential learning in research, learn about technology transfer, and build professional skills.
In 2019 Gary Griswold was presented with the Iowa State University Alumni Association's Distinguished Alumni Award, the highest honor given to Iowa State alumni.
"The Griswolds have been great supporters of our program, especially with efforts that enhance the education of our students and help better prepare them for their careers ," says Reginald R. Baxter Endowed Department Chair Andrew Hillier. "This is just one more example of that."