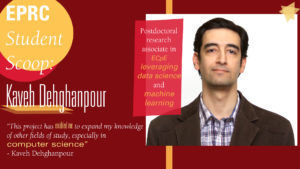 EPRC Student Scoop: Kaveh Dehghanpour ensures safe and successful sensor data
From power engineering to computer science, Kaveh Dehghanpour, a postdoctoral research associate at Iowa State University since 2018 in the Department of Electrical and Computer Engineering, is working on a monumental project with the Department of Energy (DOE) to leverage data science and machine learning for enhancing grid-wide situational awareness.
After receiving his Ph.D. in electrical engineering from Montana State University in 2017, Dehghanpour was ready to hit the ground running in a program with high-quality energy research.
"After I received my Ph.D., I chose ISU because of the very strong power engineering program and the renowned faculty members that are doing excellent research in energy," Dehghanpour said.
Working with Dr. Zhaoyu Wang, Harpole-Pentair Assistant Professor in ECpE, Dehghanpour's project with the Department of Energy is teaching him things he never knew before, he said.
"My relationship with [Dr. Wang] has been constructive and I have learned a great deal from him," Dehghanpour said. "In the Electric Power Research Center (EPRC) I have had the opportunity to cooperate with talented researchers, who are dedicated to their work."
The goal of the DOE-funded project, leveraging data science and machine learning to enhance grid-wide situational awareness, uses smart-meter data from Iowa utilities to both monitor and model energy networks. The project isn't focused in only one power systems category, rather, it is a project with many facets of learning.
"The multidisciplinary nature of the project is my favorite part of it, since it has enabled me to expand my knowledge of other fields of study, especially in computer science," Dehghanpour said. 
Once the project is fully in place, Dehghanpour and his team hope to help utilities better handle sensor data, gaining intelligence on the grid's state in real, current time. This will eventually allow utilities to work with higher levels of renewable resources while also making sure the system is operating safely.
Encouraging and ensuring secure and successful sensor data is a passion of Dehghanpour's, and he says Iowa State is the perfect place to exercise his passion. But aside from all the technical opportunities, Dehghanpour says what he values the most from Iowa State isn't the technical lessons — it's the networking he has gained.
"EPRC provides a great environment for productive collaboration across the department and also with industry members," Dehghanpour said. "This helps postdocs and students conduct research that has a real-life impact in power engineering."