Matthew Swift ('18 mat sci engr & physics) and Chris Whitmore ('16 mat sci engr) had a Cyclone Engineering experience that propelled them to jobs revolutionizing space technology at SpaceX.
Both Swift and Whitmore say their hands-on Iowa State education – in and out of the classroom – was a key to their success.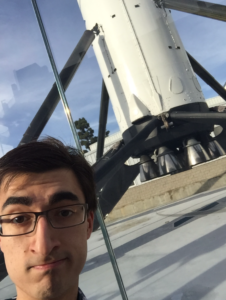 Matthew Swift
What he does at SpaceX: Swift is a Starship Build Engineer, and before that, he was a Falcon Build Engineer. He propels cargo (and soon humans) to space in an unprecedented low-cost way.
"Other engineers design rocket parts, and I figure out how to physically build it." Swift makes the decisions regarding good ways of testing, finding the best materials or the easiest process to make it. 
Favorite part of the job: Swift is working with real-life rockets, which is not something he ever thought he'd have the chance to do. And he knows that what he is doing is meaningful. In the next rocket launch, he will be able to experience the rewards of his hard work.
The Cyclone Engineering edge: Swift's years at Iowa State provided groundwork, preparing him for his position at SpaceX. At Iowa State, Swift gained exposure to materials, learning the basics of critical thinking and analyzing material behavior. He also had a dual major in physics and minors in mathematics and biomedical engineering.
(Solar) drive to succeed: "My work in PrISUm Solar Car, of which the materials science and engineering department was supportive of with use of lab equipment and a joint-senior design project, was also tremendously helpful, giving me a taste of what it's like working on a real engineering project," Swift said.
How to get an out-of-this-world career: Swift recommends joining all the clubs and activities drawing interest. From there, focus on the ones you really enjoy or think you are getting a lot out of. He recommends doing research, making friends with your professors and hanging out with other students in the student room.
"You never know what knowledge or skills will be useful later on in life (professionally and personally). Just absorb as much knowledge about everything as you can, especially if you find it interesting," Swift said.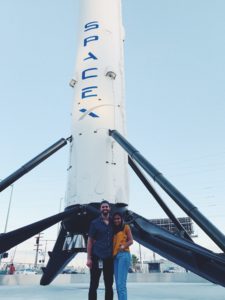 Chris Whitmore
Why SpaceX: SpaceX drew Whitmore's attention because of their goal to launch humans in 2020 and send them to Mars after that. Now, as a build reliability engineer on the composites team at SpaceX, Whitmore is a part of that mission.
"Currently, I am responsible for risk mitigation during the manufacturing of payload fairings (both new and refurbished) at SpaceX," Whitmore said, "Payload fairings are the structures that protect satellite payloads during launch."
Whitmore's favorite part of his position is building something that really matters. And that his job varies each day.
"On any given day I could be performing a composite structural repair, analyzing mechanical test data, developing corrosion repair techniques or optimizing avionics routing," Whitmore said.
Journey to SpaceX: Whitmore graduated from Iowa State in May of 2016, earning a degree in materials science and engineering with a minor in leadership. Before Whitmore accepted his job at SpaceX, he worked as a manufacturing engineer at a start-up division of Rolls-Royce.
Cyclone Engineering ready: "More than anything, my Iowa State engineering education taught me how to teach myself stuff. As a manufacturing engineer and now a build reliability engineer, I have had to teach myself statistical process control, modeling, design, GD&T, programming and a number of manufacturing techniques," Whitmore said.
"I find the same curiosity that drove me to learn about materials at the small scale drives me in many other subjects, but actually learning how to learn was the most instrumental. Plus, you'd be surprised how many things can be related back to materials engineering in some way."
Relationships are everything: Iowa State also taught Whitmore that relationships really matter.
"Not in the sort of 'it's all about who you know,' but more of the — when people can rely on you, they're more willing to help you accomplish something inside work or become lifelong friends outside of it," Whitmore said.
His best memories from his time at Iowa State include the student community, professors and staff.
"I think a lot of people might take for granted how fantastic the faculty and staff in MSE are. There's some amazing resources on that team, and they do a tremendous job of sharing guidance with our students."