Growing up in Missouri and attending college at Iowa State University, software engineering senior and student athlete Bailey Righi has spent most of her life in the midwest.
As a senior, Righi has a lot to look forward to and many moves to make in her last year at ISU. But one move is already planned: to Oregon, following her acceptance of a full-time position to the popular athletic and fashionable brand Nike as a Global Technology Rotational Associate, starting in August 2020 after graduating from ISU this May.
This isn't Righi's first time heading to Oregon for Nike — she interned there last summer for software engineering and tasks related to cyber security. While the upcoming position she just accepted ends after one and a half years, she will get the chance to experience three different positions throughout that time. Every six months Righi will be working for a different area within the company, for example, helping to develop an app for human resources for six months, then moving to a project more business-based for six months, and so on. Righi says she will likely end up going back to one of the three teams in the rotational program.
"At the end of the summer, they tell us if we will get an offer for the rotational program," Righi said, "Eventually, after a year and a half, you go back to one of the teams you worked for during the program. Most people love at least two of the teams, or you can go back to the team you intern with."
After Righi's former internship, she met with her manager at Nike, and they completed evaluations. One really nice thing, she said, was that the evaluation was immediately sent to recruiters to help her land a potential job.
The opportunities at Nike for software engineers are seemingly endless. Many of the positions are internal, like working with an app for the human resources team, or working on password-reset tasks. Some areas are also very client based, Righi said.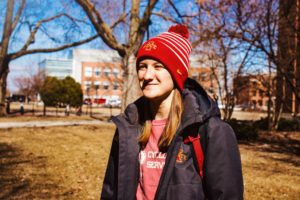 "Everything is a lot more internal than you would think," Righi said. "It's more than working on the things you would see on the surface, like running apps."
Nike has forever been Righi's top choice for athletic wear. Always an athlete, she believes that Nike is consistently improving the quality of their products.
"I like the Nike brand a lot. The quality is really good, and they always have innovative items to enhance performance," Righi said. "I've always liked Nike the best; always been a big fan. All the new shoes that my family buys have been Nike for a while."
Righi is often seen sporting Nike apparel, whether in class or on the field.
The opportunities she will have in a new state and job are limitless. Professional athletes occasionally visit the business's campus, and potentially having to chance to interact with those athletes is one of the many things Righi is excited for.
"It's definitely not like the midwest where I will be," Righi said. "There is always something going on around the Nike campus, like soccer players or athletes sometimes coming, and it'll be fun to be there and get to experience all of that."
While Righi lived in Oregon last summer, she still believes her experience will be brand new, and unlike most other jobs in the field.
"It's a pretty unique experience, I'd say," Righi said. "I'll come back and be able to tell people I work for Nike."