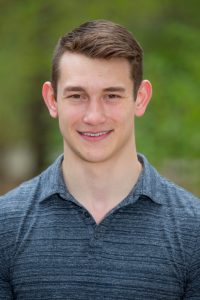 Nikita Kozak, senior in mechanical engineering from Waukee, Iowa, has been named a winner of the Wallace E. Barron All-University Senior Award from the Iowa State University Alumni Association. He is one of only seven 2020 Iowa State University seniors to receive the honor.
ISUAA established this award in 1968 to recognize outstanding seniors who display high character, outstanding achievement in academics and university/community activities, and promise for continuing these exemplary qualities as alumni. The award is named for Wallace E. "Red" Barron (class of '28), who served as director of alumni affairs at Iowa State from 1937 to 1968.
Kozek's award citation reads:
"Nikita Kozak is an example of success in the classroom, the research lab, in university activities, and even on ice. A Goldwater Scholar, Stanford Knight-Hennessey Fellowship Finalist, and Iowa State University's sole candidate for the prestigious Rhodes Scholarship in 2019, he has distinguished himself as one of ISU's most talented seniors.
Nikita is a goaltender on the Iowa State Division I hockey team – which by itself is enough to fill a full-time schedule. But Nikita has shown equal dedication to other ISU activities, including his work as an undergraduate researcher in both the Computational Fluid-Structure Interaction Laboratory and the Ivy College of Business. Nikita has taken home first-place honors at five national research symposiums – including awards from the U.S. Army Research Laboratory –, was named honorable mention for 'Posters on the Hill' in Washington, D.C., and participated in Research at the Capitol in Des Moines. He has been published as a first author in both the Journal of Mechanics and by the 2019 American Institute of Aeronautics and Astronautics Propulsion and Energy Forum.
He is a University Honors program participant, an undergraduate research ambassador, the founder and president of Iowa's Rising Scholar Research Outreach Program, and periodically assists as a coach for youth hockey teams. He has studied abroad in Mannheim, Germany, and completed multiple mechanical engineering internships throughout his time as an ISU undergraduate."
Kozak will receive his award at ISUAA's Spring Senior Send Off event.