The Center for Multiphase Flow Research and Education (CoMFRE) has undergone notable developments over the course of the past year. CoMFRE became an official center in fall 2017, and it continues to grow as collaboration flourishes and research advances.  
CoMFRE brings together faculty, students and industry leaders interested in advancing real-world applications for multiphase flows. Industries where multiphase flows are found range from energy and power generation to agricultural and pharmaceutical companies to materials and construction.  
"Multiphase flows are also abundant in nature and are observed in cloud formation, rain or snow falling, avalanches, waves, dust storms and biological systems, to name a few," said Ted Heindel, director of CoMFRE.  
A Pivotal Promotion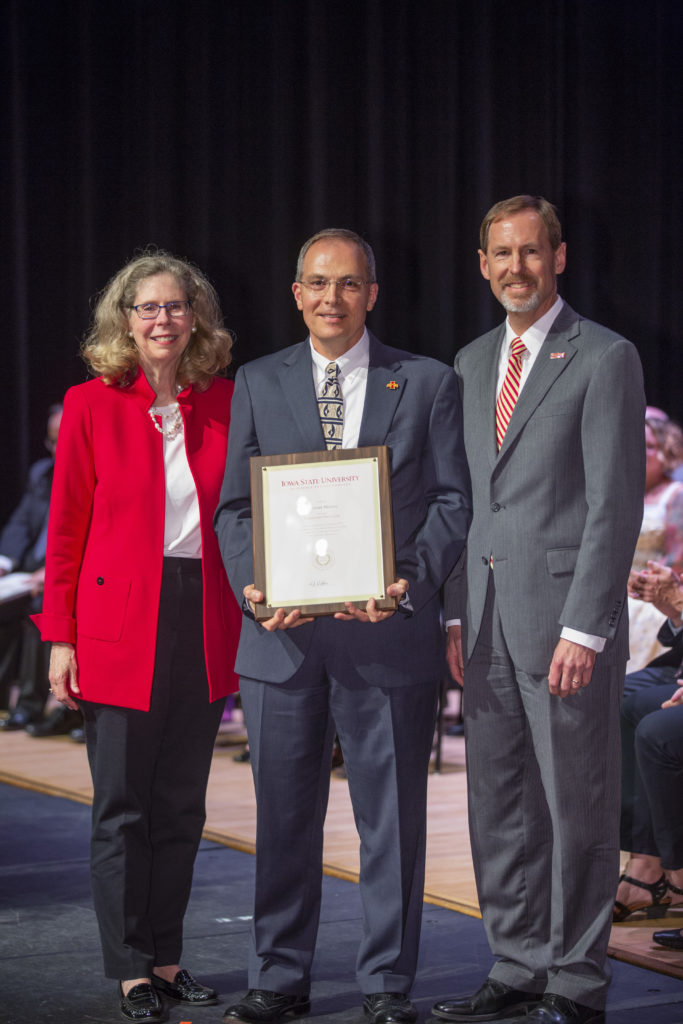 Heindel, who also serves as the Bergles Professor of Thermal Science in the Department of Mechanical Engineering, brought decades of experience with him ahead of joining CoMFRE. This experience was recognized in 2019 when Iowa State University President Wendy Wintersteen informed him of his promotion to University Professor.  
The title of University Professor "recognizes faculty members whose professional work has focused upon effecting positive, significant institutional change at Iowa State University," as defined by the Office of the Senior Vice President and Provost. 
"It is an honor to receive this recognition," Heindel said. "I am grateful for having been able to work with so many outstanding colleagues in the past 20 years who have helped me become a successful ISU faculty member."  
Heindel also says his new title will help to continue bringing graduate students with outstanding backgrounds and interests into his research group.  
Embracing Growth and Looking Ahead 
Nearly 30 faculty and staff members comprise the CoMFRE team and many students work in collaboration with professors and industry leaders to engage in research. Faculty with expertise across the fields of mechanical, chemical, civil and aerospace engineering constitute a majority of the team.   
In Fall 2019, CoMFRE welcomed their very first non-engineering faculty member to the team. Pelin Guven Geredeli, assistant professor in mathematics, joinedCoMFRE with the interest to engage in a cross-interdisciplinary collaboration in modeling multiphase flows.  
The multi-disciplinary team has easy access to spaces in Howe Hall and in the labs of affiliated faculty for collaborating with one another. Heindel says CoMFRE will continue to cultivate cross-departmental relationships with faculty researching multiphase flows. 
The expansion of faculty involved with CoMFRE has been accompanied by growth of industry partnerships. At the start of 2018, CoMFRE launched collaborations with AbbVie and BP. The group welcomed BASF and Roeslein Alternative Energy in 2019.  
"Ultimately, we would like to have a stable member company list of 8 to 12 companies, with 80 percent of their member dues supporting multiphase flow research that they can direct," Heindel said.  
Viraj Belekar, a Ph.D. candidate studying with CoMFRE's founding director Shankar Subramaniam, values the signature partnerships CoMFRE has built with industry leaders. Belekar has been working with AbbVie, a pharmaceutical company looking to increase the efficiency of granular flows used for making their products.   
"CoMFRE has industrial partners as members which makes it unique," Belekar said. "If you want to build up your career in industry, CoMFRE is the best stepping stone towards that."