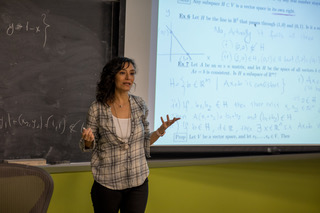 Pelin Guven Geredeli, assistant professor in mathematics, is bringing new ideas to the Center for Multiphase Flow Research and Education with an enthusiasm to engage in cross-disciplinary collaboration.
On the tailwinds of the College of Engineering's long history in researching multiphase flows and fluid dynamics, CoMFRE was officially approved in 2017. Its purpose serves to unite scientific breakthroughs in multiphase flows with real world applications, going on to provide solutions for industrial and societal problems.
After engaging with members of the mechanical engineering department, Geredeli learned about CoMFRE and the collaborative opportunities it presented for working in team settings on groundbreaking research.
"I was so excited when I heard about CoMFRE," Geredeli said. "During my interviews with Iowa State, my first concern was to ensure that I could conduct interdisciplinary work with engineers or external teams."
Geredeli's research has focused on working with fluid structure interaction (FSI) models that have applications in fluid dynamics, aeroelasticity and biomedicine. Most recently, she has been working on cellular dynamic problems with the human body, as the interactions of cell nuclei and cytoplasm mimic a multiphase problem.
Advancing innovation and formulating solutions
Ted Heindel, director of CoMFRE, is enthusiastic about welcoming Geredeli to the program and is excited about the prospect of working with faculty from outside of the College of Engineering.
"Pelin and her students will bring a new perspective to CoMFRE, which can help those working in fluid-structure interaction problems," Heindel said. "I see Pelin as the first of several faculty outside the College of Engineering who are working in some aspect of multiphase flows, and who will be invited to join CoMFRE."
Geredeli is already engaging with members of the CoMFRE team on emerging research, including Alberto Passalacqua, associate professor of mechanical engineering, and Shankar Subramaniam, professor of mechanical engineering and associate director of CoMFRE.
"I can always work with applied mathematicians, but I want to be involved in a team because engineers can look at problems and identify things which I do not see as a math person" Geredeli said.
The team is looking to solve a problem related to interaction of both compressible and non-compressible flows in a system. The composition of the project team illustrates how the varied areas of expertise within CoMFRE complement one another.
"Pelin and future faculty partnerships will expand the problems on which we work and increase CoMFRE capabilities that will enhance our center and its value to our members," Heindel said.