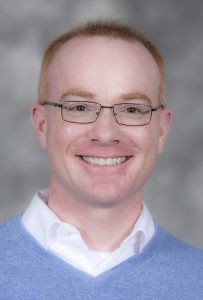 The newest addition to the Department of Chemical and Biological Engineering's Mike and Jean Steffenson Student Services Center brings a wide range of experience working with college students.
Matthew Brown will be part of the department team as a student services specialist. He will advise CBE undergrads, will work with the department's student ambassador program, will assist with student orientation and will work with department faculty.
He comes to CBE after being employed in the Iowa State University Office of the Registrar where he worked with students on scheduling and fees and also helped coordinate learning communities. His background also includes time with the ISU Office of Student Financial Aid while attending school and later as a full time advisor.
Brown graduated with a B.S. in accounting from Iowa State in 2000 and immediately began a M.Ed. in Higher Education program here, which he completed in 2002. After working at a student loan firm in West Des Moines for over a decade, he says, "I knew I wanted to get back into education, and a second master's degree in K-12 School Counseling helped guide me back to the institution that represents the convergence of secondary education success and the NEW roadmap to career success. For past, present and future generations of my family, Iowa State links dreams with opportunities.  It is a privilege to be part of the CBE team."
Originally from Mankato, MN, Matthew lives in West Des Moines. He is married and has two children. His father is a civil and environmental engineer and an Iowa State alumnus.