Charlie Wickham's passion for theme parks started at a young age. Like other students interested in pursuing a career in the amusement park industry, Wickham started building his own models out of K'Nex and Legos. He eventually took his passion for design to a bigger stage: designing the theme park engineering group at Iowa State University.
When he was applying for internships and co-ops, Wickham did a quick LinkedIn search to find interns at the companies he was interested in.
"After searching, I found a current intern (Danny Fritsche) from Iowa State who had mutual connections with a couple good friends of mine," Wickham said. "I shot him a message immediately, like 'how do we not know each other?'"
This message sparked the eventual formation of the theme park engineering group at Iowa State.
Goals of the club
The executive board ordered the club goals around three major points: celebration, education and professional development.
The group is currently working on designing and 3-D printing a model roller coaster, along with actively participating in events at local schools and teaching kids about the physics and safety aspects of the amusement industry. Notably, the group is currently working with Gilbert High School's 9th grade physical science class on their marble roller coaster project all this month.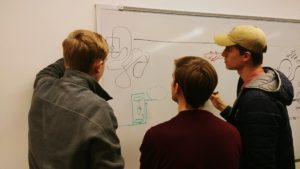 "We want to provide a space for people to be fans of amusement parks while also helping them develop the technical and creative skills necessary to succeed in the industry," Wickham said. "It's also about who you know—this industry is very niche and small; everybody knows everybody. We want to encourage our members to attend networking events and build their resume with us."
The theme park engineering group at Iowa State is a relatively new club, and is looking to grow as the years go on. They are open to all majors, but consist of mostly engineers and design students.
The only direction: forward
In February ­2019, Wickham started drafting up a constitution and reaching out to faculty and students to help him get the club started. He was able to recruit sophomore mechanical engineering student Heather Baier as treasurer and Fritsche as vice president.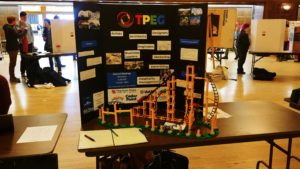 The real club development started during fall semester of 2019. The team brought on Emmanuel Agba, teaching professor of mechanical engineering, as their faculty advisor. Agba chose to assist the club because of Wickham's clear passion for the club.
"He (Charlie) has some experience and very motivated in what he wants to do," Agba said. "I thought there would be a lot of students who would benefit from that."
Agba also stated that he likes when student clubs are hands-on and allow members to design their own models from scratch.
As they grow, they want to make sure students with an interest in the industry know there's a place for them.
"Knowing it's not just me, that there's other people interested in working in the roller coasters and amusement park rides industry, that's the best part of this club," Wickham said.