While many college students gain first-hand engineering experience through internships and co-ops, Ryan Williams was gaining this experience before he even stepped foot on campus.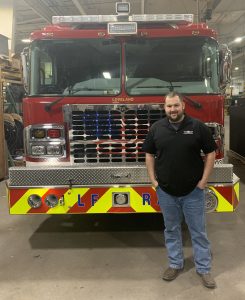 Williams served as an aviation structural mechanic for the U.S. Navy after high school which taught him how hydraulic systems and flight control components work together to put an aircraft in the air. After a four-year stint in the Navy and one year as a machinist for Houston Precision Fasteners, Williams came to Iowa State University.
As a kid growing up in Magnolia, Texas, Williams enjoyed taking things apart to learn how they work. This, coupled with his experience in the Navy and at Houston Precision Fasteners, led him to pursue mechanical engineering (ME) as his major.
"Being able to take what I had learned in the Navy and being able to perform calculations based on design parameters really made my selection to become a ME more definite," he said.
As a student, Williams was active with the Veterans Center which was part of his draw for coming to Iowa State. He also had the opportunity to travel to Nicaragua as part of ME associate teaching professor Gloria Starns' study abroad program. As the only student on the trip with significant welding experience, Williams handled welding duties for the group's service project. Starns said she was impressed with his work ethic and willingness to finish the job on days when temperatures were in the 90s with nearly 100 percent humidity.
Williams took ME 170: Engineering Graphics and Introductory Design with Starns and liked her teaching style so much that he also took ME 325: Mechanical Component Design with her. In class, Starns was impressed again with his work ethic and willingness to work on models "until he had every detail nailed down."
"Having been at Iowa State for many years now, I can say without hesitation that Ryan's work ethic is among the top two or three I have encountered," said Starns. "Ryan is the kind of student that defines the good character and high integrity of Iowa State."
Williams said Starns also left a lasting impact on him and they remain in contact to this day.
"Gloria is by far the most influential professor I have ever had and she guided me to be the person I am today," he said.
Despite being older than many of his classmates, Williams said it was never particularly difficult for him to transition into college life.
"I felt like being of older age really pushed me to finish early as I completed my degree in three and half years," he said.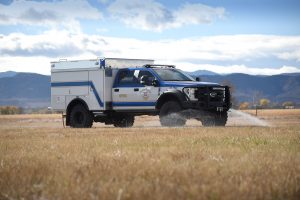 Since graduating in 2017 with his B.S. in ME, Williams has worked as a mechanical engineer for SVI Trucks in Fort Collins, Colorado. The company specializes in custom fire apparatuses for vehicles. Williams' duties involve building pumps and chassis-related systems, such as hydraulic systems, high-pressure air systems, and generator power systems.
"Iowa State has provided me the training and education necessary to determine fluid flow calculations for pump and hydraulic power systems, and also provided me with the ability to 3D model various components," he said.
In his free time, Williams enjoys hunting, fishing, working on vehicles and just spending time outdoors. Starns said that she is proud of what her former pupil has achieved.
"As a teacher it's just so rewarding to see when your work has such a positive impact on someone both professionally and personally. I think Ryan is a role-model for not only non-traditional students, but for all students."