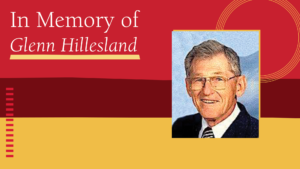 Glenn Hillesland, adjunct professor emeritus in the Department of Electrical and Computer Engineering (ECpE) at Iowa State University, peacefully passed away on Jan. 12, 2020, in Ames. 
As a young student, Hillesland attended a one-room schoolhouse in Conover, Iowa. After graduating from high school, he enrolled at Iowa State the following year, pursuing courses in electrical engineering.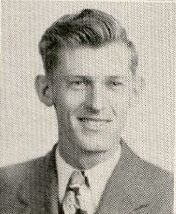 In the midst of obtaining his degree, Hillesland entered the U.S. Army and became a Tech Sergeant, from which he was honorably discharged in 1946. After his discharge, Hillesland came back to Ames to complete his Bachelor of Science in Electrical Engineering, which he received in 1947. As a student, he was involved in the American Institute of Electrical Engineers (now the Institute of Electrical and Electronics Engineers, or IEEE), the Lutheran Student Association and intramurals. Once Hillesland completed his degree, he started a job with a utilities service in Illinois called Commonwealth Edison Company. Hillesland eventually moved back to Ames with his wife, Arnhild Hellkas, and from 1986 until retirement he was an adjunct professor in ECpE.
While Hillesland was a faculty member in ECpE, he received many recognitions and awards for his driven work ethic. Hillesland received the Engineering Impact award, the Outstanding Achievement in Extension/Professional Practice award and the Superior Engineering Extension award. Hillesland focused a lot of his research on electromagnetic fields and evaluating variation in home comfort levels when cycling air conditioning on and off by a utility.
Outside of Iowa State, Hillesland was a senior member of IEEE, also serving on the program committee of the Central Iowa IEEE branch. He was also a member of the Western Society of Engineers, the National Society of Professional Engineers (NSPE) and the Illinois Society of Professional Engineers (ISPE). Hillesland made memorable contributions to all the professional organizations in which he was involved.
Hillesland did a lot in the engineering world, but he still took the time to impact people's lives, encouraging and motivating the people around him. His professional and personal work ethic will forever be remembered by ECpE at Iowa State.