Kayla Youngblood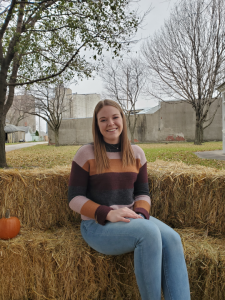 Major: Construction engineering, mechanical emphasis
GPA: 3.59
Hometown: Jefferson, Iowa
Career goal: To be a successful project manager for a construction company I am passionate about
Clubs/activities: Sigma Kappa, Mechanical Contractors Association, Associated General Contractors, National Electrical Contractors Association (NECA)
Awards/honors: Dean's List, Green Energy Challenge: Best Presenter Award, Cardinal Scholarship
Favorite place on campus: Catherine J. MacKay Auditorium
Most influential ISU mentor: Beth Hartmann, teaching professor in civil, construction and environmental engineering
Why Iowa State: I picked ISU because of their great engineering program.
Kayla Youngblood has multiple academic awards, including Dean's List all but one of her semesters and the Cardinal Scholarship. But, she chose not to apply for any other scholarships, however, because she is able to afford college expenses, and wanted to stand aside for fellow students to apply.  
"In almost a decade of nominating four outstanding students (and people) per year for marshal, I have never encountered generosity expressed in that way," said Chris Rehmann, Youngblood's nominator and associate professor of civil, construction and environmental engineering.
 Youngblood is a part of multipleacademic organizations on campus, including the ISU chapters of Associated General Contractors, Mechanical Contractors Association (MCA) and National Electrical Contractors Association (NECA). 
She was named best presenter at the 2019 Green Energy Challenge, which invites student NECA organizations to conduct an energy audit and retrofit proposal of a building on their campus. ISU's chapter was also awarded its sixth consecutive national title. This year the competition was in Las Vegas, and Youngblood claims this experience as her favorite memory from her Iowa State experience. 
She has also enjoyed collaborating with classmates on the MCA national competition, in which students are given a challenge to complete over two months, as well as the regional competition of the Associated Schools of Construction (ASC), in which students must complete the challenge in 15 hours. At the last ASC competition, Kayla's team placed first in the specialty division. 
Outside of engineering, Youngblood has been heavily involved in her sorority, Sigma Kappa. She served as executive vice president from November 2016-17, and chapter president from November 2017-18. Her positions in Sigma Kappa helped her develop communication skills while also dealing with sometimes challenging situations.
Youngblood discovered her passion for applying engineering skills to plumbing design and construction while working as an estimating intern at MMC during the summer of 2017. Since then, she has worked extensively for the Baker Group in Des Moines and Ankeny, with a co-op from January to August of 2018, an internship in summer 2019, and 20 hours of work per week during the school year.
Youngblood will work full-time for the Baker Group after graduation as an assistant project manager in their mechanical business unit.