Student Marshal – Nicholas Wijaya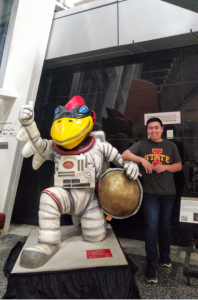 Major: Aerospace engineering
 Hometown: Jakarta, Indonesia
GPA: 3.95
Career goal: Become an aerospace engineer who participates actively in the future innovations in the engineering world. 
 Clubs/activities: Aerospace Mentorship Program, American Institute of Aeronautics and Astronautics, Indonesian Student Association, 
Awards/honors: Highest GPA in Aerospace Engineering, Dean's list, Boeing Company Award, Tau Beta Pi Award, 2016 Caterpillar Innovation Challenge, Sigma Gamma Tau, Tau Beta Pi
 Favorite place on campus:  Howe Hall, because I spent most of my time and have tons of memories with friends there. 
Most influential ISU mentor: My faculty escort, as well as my research professor, Anupam Sharma. I learned a lot from him through classes, work, research, organizational work, and outside of school. He has taught me not only technical aerodynamics knowledge but also various soft skills and precious life lessons.
Why Iowa State: Iowa State is recognized for having good engineering programs, especially the aerospace engineering department. Furthermore, there are many opportunities to listen to and learn from well-knowledge Iowa State aerospace engineering alumni leading the aerospace industries who come back to give talks at Iowa State. 
Nicholas Wijaya's academic success, his willingness to take risks and his numerous leadership roles led to him being chosen as the College of Engineering's representative during the 2019 Fall Commencement Ceremony on Saturday, December 21st. 
Wijaya was nominated by Anupam Sharma, Associate Professor of Aerospace Engineering.
Originally from Jakarta, Indonesia, coming to Iowa state was a big adjustment for Wijaya.  
"Four years ago, I went abroad for the first time to attend Iowa State. It was not easy to adapt to new things, such as language, culture and weather," Wijaya said. "It was an entertaining journey, though, and I enjoyed every moment of it."
Not one to turn away from his roots, Wijaya is the current president of the Indonesian Student Association. He has held numerous other leadership roles in his time at ISU, including serving as president, treasurer and advisor for the American Institute of Aeronautics and Astronautics (AIAA) chapter at ISU, treasurer of Sigma Gamma Tau Aerospace Honor Society , Corresponding Secretary of Tau Beta Pi Engineering Honor Society and a mentee and mentor of the Aerospace Mentorship Program.
"It should be noted that the AIAA student organization (chapter) is the most relevant and one of the largest student organizations for Aerospace Engineering students," said Wijaya's nominator, Sharma. "Nicholas' dedication and contribution to the department through his leadership and participation in the AIAA student chapter is commendable and worthy of recognition."
Since 2018, Wijaya has been conducting independent research with Anupam Sharma, where he is developing a GPU-accelerated method for wind turbine design. 
During the Spring 2019 semester, Wijaya had a six-month technical co-op at Collins Aerospace. His responsibilities in this role included developing and validating software requirements for Fusion Flight Displays Systems Application, generating test cases to demonstrate software robustness and assisting the team with Federal Aviation Administration certification process.
His co-op experience landed him a full-time position as a software engineer at Collins Aerospace, with plans to attend graduate school in the near future.