Mette Lundsgaard ('81 elec engr) retired as an engineering manager at 3M and is now an active supporter of Iowa State University's Women and Philanthropy Workshop and Iowa State's Women in Science and Engineering and Engineers Without Borders.
What was your experience like at Iowa State?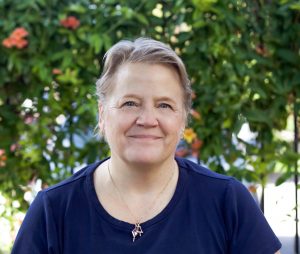 My experience at ISU was fun and enriching. On my very first day, I met what have turned out to be lifelong friends.
Our dorm floor was very tight-knit. Not just those in my immediate class of 1981, but older and younger women. Football games, FACs at the Maintenance Shop, and so many other non-academic activities!
How did your Iowa State education help you in your career at 3M?
One of the strengths of the Iowa State engineering program is the exposure to other disciplines. This provides a well-rounded background that was helpful in my manufacturing career.
3M is one of the best companies. So many products they make are involved in improving lives. 3M requires accountability of their employees, and supports independent thinking.
What have been your experiences with giving back to Iowa State?
My parents always modeled a giving lifestyle – not just monetary, but also personal involvement. Education, STEM, and developing countries are areas important to me.
Through W and P (Women and Philanthropy), WiSE (Women in Science and Engineering) and EWB (Engineers Without Borders), I am able to contribute to all three of the areas of importance. I enjoy meeting and working with Iowa State students, faculty and staff.
W and P is a wonderful committee. We learn from each other and from the ISU foundation staff. Through our conferences, we try and provide education in giving and hopefully have an impact on Iowa State.
I am very impressed with the WiSE organization for their focus on first-year success for STEM majors, and I am proud of EWB's realistic help to international communities.
What advice do you have for current students and/or recent graduates within the College of Engineering?
As you start your careers, know that so much is possible and do not box yourself in to any specific area of work. Your ISU engineering education is the key to opening many doors, some you cannot even imagine now. Also, join the alumni association!