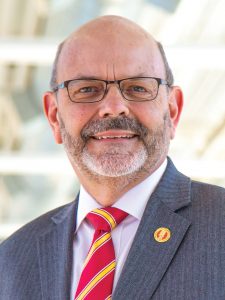 W. Samuel Easterling, James L. and Katherine S. Melsa Dean of Engineering, has been named recipient of the American Institute of Steel Construction's Lifetime Achievement Award.
The award honors those who have made significant contributions to the success of the fabricated steel industry. Easterling's award citation states:
"His doctoral studies pioneered efforts to use steel deck-concrete slab systems to transfer lateral forces through floor systems in steel buildings. Easterling has received numerous accolades for his prolific body of work in the area of composite construction. He has given numerous seminars for AISC education programs and has served on several AISC committees. Easterling received AISC's Special Achievement Award in 2012 and the T.R. Higgins Lectureship Award in 2002."
Easterling is an accomplished educator, scholar and administrator and is a registered Professional Engineer. His primary research interests are in the areas of composite and cold-formed steel structures, and he has received many awards for his research and professional service.
Easterling is active in professional organizations including the AISC, American Iron and Steel Institute, American Society of Civil Engineers (Fellow) and Structural Engineering Institute (Fellow).
He will receive the Lifetime Achievement Award at the AISC national conference in Georgia on April 22, 2020.