The streets of New York City bear little resemblance to the walkways of Sweeney Hall. But when Department of Chemical and Biological Engineering (CBE) sophomore Wesley Jamieson was making his way through the course of the New York City Marathon, his thoughts drifted back to his home department.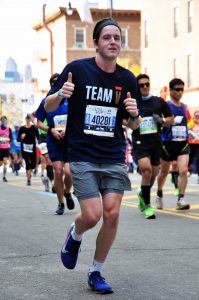 "When I first started long-distance running, I'd start out fast, but would then run out of energy before the end. And then I started thinking of it like an academic year in chemical engineering," Wesley says. "At the start of a semester you need to pace yourself to finish strong, and keep moving forward when things get tough. I think I've found success both in the classroom and on the running course using that philosophy."
He's at the halfway point of his second year in the undergrad curriculum at ISU. And while his eyes are on the short-term goal of hitting May in stride, he recently put his love of running to the test in the New York City Marathon – all 26.2 miles of it. But it wasn't all about him. Those well-paced steps racked up $3,800 in charity from Wesley personally, while the team he was part of raised a total of $350,000 for the V Foundation, a cancer research charity named for college basketball coach Jim Valvano.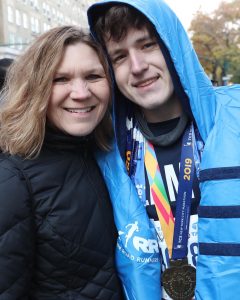 A runner since the age of five, Jamieson's specialty on the high school track team in Overland Park, Kansas was the 400 meter sprint. He estimates he turned in 300-400 miles in distance running during marathon training. His first outing was the Grandma's Marathon in Duluth, MN in June of 2019. He raised $500 for Special Olympics that day in a warmup for New York City. He teamed with about 70 other individuals who were racing for the V Foundation in the Big Apple, in order to secure a starting spot in the world's most selective marathon.
But, he says, nothing could prepare him for the spectacle that unfolded November 3. "Here I was, a kid from Kansas who had never been to New York City, and I'm running in the biggest marathon there is."
More than 52,000 people took part in the 2019 event. "The start was the wildest thing in my life. They start everyone in four different waves, and you line up in big corrals prior to your group's start time." The course passes through all five boroughs of New York City, and well-wishers line the entire route. "There are thousands of people – all different nationalities – cheering for you, high-fiving you. It's pretty incredible," Wesley says. He finished the distance in four hours, 17 minutes. "Not a personal record, but I did it," he says.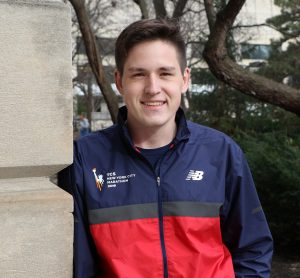 Though he says he'd like to participate in the event again, or perhaps the Boston Marathon, both might be a few years down the line. In the meantime, he's happy with the challenge of chemical engineering. His father is an aerospace engineer. His mother and brother are software engineers, with brother Ian graduating from ISU with a degree in software engineering in 2018. But for Wesley, who's interested in the pharmacy industry, chemical engineering provided a challenge not unlike distance running: "I took a look at the curriculum, the strong discipline needed, and felt that was for me. I knew I was up for it."