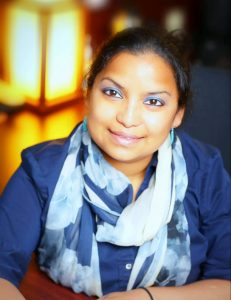 With a research specialty in nanomedicine and nanophotonics – and designing materials that fight diseases using image-guided techniques – Rizia Bardhan will join the faculty of the Department of Chemical and Biological Engineering in January, 2020.
Bardhan, who has been hired as a tenured associate professor, comes to Iowa State from Vanderbilt University, where she has been an assistant professor in the Department of Chemical and Biomolecular Engineering since 2012.
Her research focuses on designing nanomaterials that can be activated by external stimuli and then utilize them for biomedical imaging, and image-guided drug delivery and immunotherapies across many disease models, including cancer, neurodegenerative disease and infection. She also develops point of care diagnostics that she is currently applying for early detection of preterm birth in pregnant women. Click here for more on her current research.
Prior to joining the faculty of Vanderbilt University she was a postdoctoral fellow at The Molecular Foundry, Lawrence Berkeley National Laboratory, Berkeley, CA.
She received a B.A. in mathematics and chemistry at Westminster College, Fulton, Missouri, in 2005 and a Ph.D. in chemistry at Rice University in 2010 under the guidance of Prof. Naomi Halas, a pioneer in nanophotonics and plasmonics.
In the 2020 spring semester at Iowa State she will teach ChE 381, chemical engineering thermodynamics.
Outside of research and teaching, Bardhan enjoys spending time outdoors with her two sons Elan (3) and Jonah (5), and husband Cary Pint, who is also a new Iowa State University faculty member, joining the Department of Mechanical Engineering in January.