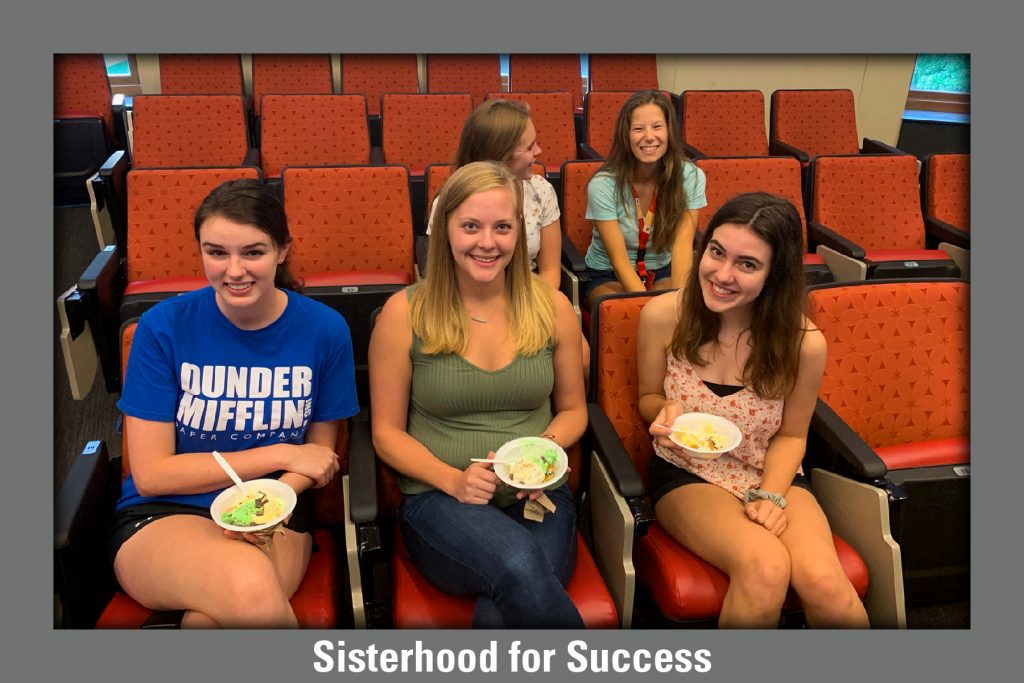 The Society of Women Engineers (SWE) with the Iowa State University College of Engineering is working to cultivate shared experiences, build lasting relationships and empower women through the SWEster (swee-ster) mentorship program.  
By pairing upperclassman with freshman and sophomores in the College of Engineering, SWEsters are afforded with opportunities to network and exchange advice for being successful in their field of study.  
The advent of meaningful mentorship 
Mady Bixby is a senior in biological systems engineering and plays a central role in coordinating SWEster events while facilitating the overall program. Bixby also worked to oversee the pairing of upperclassman mentors with underclassman mentees.  
"First and foremost, we want mentors to be an available resource for not only SWE but for being a woman in engineering in general," Bixby said.  
After the completion of a pilot stage for the program in the spring of 2019, the SWEster program was officially launched this fall. The SWE welcome picnic held during the first week of the semester created strong interest around the program. Today, there are 89 students involved in SWEster.  
Sharing knowledge and growing a community 
SWE president Morgan Stecklein has been paired with three underclassman in mechanical engineering to serve as their mentor. The senior in mechanical engineering hopes to be a resource for those she is leading.  
"I am looking forward to meeting new people and becoming closer with my SWEsters," Stecklein said. "If I am able to have any kind of positive impact or help any of my SWEsters in college, networking, or finding their place in SWE, I think this would be a success." 
One of her mentees, Madissen Lawrence, is looking forward to the opportunity to meet new people.   
"I hope to make new friendships, get more involved with SWE, and find a community with other women in engineering," Lawrence said. "I am looking forward to doing activities with my SWEsters and getting to know them better."  
Connecting to cultures and building friendships 
Faith Gbarjolo is a freshman in mechanical engineering who is also mentored by Steicklen. Originally from the Ivory Coast of West Africa, Gbarjolo attended her first two years of high school in Syracuse, New York. After graduating from East High School in Des Moines, she was drawn to Iowa State University's engineering programs.  
As a first-year student, Gbarjolo is already involved in Women in Science and Engineering, National Society of Black Engineers and Women in Mechanical Engineering. After learning about SWEster, she was attracted to the program's mentorship component and wanted to become involved.  
"I am looking forward to meeting new people and receiving advice from my mentor," Gbarjolo said.  
By design, the SWEster program works to build strong connections between SWE members and the functions of the organization. Having a familiar face to look forward to seeing at SWE meetings and events works as a way to retain members and strengthen lasting relationships.  
"I was interested in joining the program because I was excited to be a part of SWE but nervous about not knowing anyone in the organization," said Camille Cramer, a mentee of Steicklen. "I saw the SWEster program to be a way to gain friends and relationships in SWE while having someone to go to different events with."