Focus.
Focus on what you want and go for it.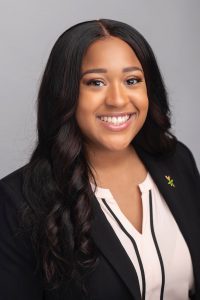 These are the first two lines of Jocelyn Jackson's personal mission statement. And as the new national chair for the National Society of Black Engineers (NSBE) as of May 1, focus is Jackson's top priority.
When it comes to NSBE, Jackson treats focus as an acronym of values: family, opportunity, commitment, unity, and servant leadership.
According to Jackson, a grad student in mechanical engineering who also attended Iowa State for her undergraduate studies, NSBE was founded on servant leadership, which she defines as leading with empathy.
The six NSBE founders and their advisor at Purdue University noticed that while they had found their success, many others had not. Even today, the graduation rate for black engineering students within six years is 36%.
Jackson nearly stopped believing in herself before she found the NSBE chapter at Iowa State, along with the means to succeed.
"I wouldn't be an engineer if it weren't for this organization because I was ready to give up, so I want to give back to the organization and pay it forward," Jackson said.
Jackson's goal as national chair is to promote and make strides to accomplish the current strategic plan of NSBE: 10K by 2025. In other words, to have 10,000 black engineers graduating annually by 2025.
Currently, about 4,500 black engineers are graduating annually nationwide, which is a 28% increase from the start of the strategic plan. Progress has been made, but it is not yet enough.
"It's a complex issue," Jackson said. "It's hard because I don't want to fail. If I fail, I don't lose, but others would, and they are counting on us. I would rather lose than see others lose. I believe engineering is a way of life and a lot of our members are first-generation students or first-generation engineers who need NSBE's support. We change lives!"
That's why Jackson plans to lead with purpose and to unite the organization.
"Really, I'm the visionary. I put the vision together, work with the team, get feedback and stakeholder engagement, and from there we apply focus and just go for it," Jackson said.