Each semester, twelve graduating seniors are selected as outstanding seniors to represent the College of Engineering. Of these twelve, one is chosen as the college's student marshal at the undergraduate commencement ceremony on May 11.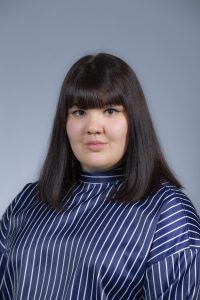 Victoria Kriuchkovskaia, graduating senior in chemical engineering, has been named the spring 2019 student marshal for the College of Engineering.
Inducted into three academic honor societies, contributed significant research to multiple research projects and a Summer Research Fellow at Vanderbilt University, Kriuchkovskaia's numerous accomplishments indicate a future of greatness. Kriuchkovskaia completed six semesters of undergraduate research including one semester as a Griswold Undergraduate Research Intern, a competitive internship awarded to students based on strong academic performance and demonstrated research ability.
While interning at Vanderbilt, Kriuchkovskaia designed an efficient, economical, single-molecule magnetic microscope and identified several areas to leverage the microscope to advance research.
"Success was by no means easy for me," said Kriuchkovskaia. "There were times when my grades were bad and when I could not manage my time at all. I think what really helped was reaching out to people and asking for advice. I had to be very dedicated and focused and keep remembering that hard works always pays off."
After graduation Kriuchkovskaia plans to pursue a Ph.D. in chemical engineering at the University of Illinois at Urbana-Champaign, one of her dream schools.
Kriuchkovskaia says she looks back on her time at Iowa State fondly, especially her first summer in Ames.
"I loved exploring the campus over my first summer in Ames—it was so quiet and peaceful, and absolutely gorgeous!" said Kriuchkovskaia.