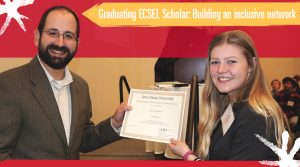 Graduation is around the corner for many students. For some, the thought of graduating is intimidating. For others, like Larisa Thys, a software engineering student at Iowa State University graduating this May, commencement is an exciting next step. But Thys will never forget the experience she had throughout her four years with the Department of Electrical and Computer Engineering (ECpE) at Iowa State, she said.
Thys has spent her later college years in ECSEL (Electrical, Computer and Software Engineers as Leaders), an organization enhancing diversity and inclusion in ECpE and the workforce, while also providing scholarships to those with financial needs. Thys joined ECSEL shortly after it began, becoming a member in the fall of 2017. An adviser reached out to Thys recommending the program, and after applying to the program and receiving the scholarship, she never looked back.
"I started ECSEL the semester after it started," Thys said. "I had heard about it before, and an adviser reached out to me to apply, so I did — and I got it, which was awesome."
After joining ECSEL, Thys met other women in engineering — something seemingly uncommon for her, she said. Since the beginning of her college career, Thys never saw many female fellow classmates.
"As a freshman, it was super daunting to be the only woman in the room," Thys said. "There were about three women in the 200-student lecture. ECSEL was the first class in the ECpE community that was primarily female."
In ECSEL, Thys said she was comforted knowing there were a lot more women in ECpE than she often saw. Getting to know these fellow classmates formed several relationships that will last after graduation, she said.
"It is really cool to talk to all the other women in ECpE and rationalize that you're not the only one. Even if they weren't in my classes, it was nice to know they were around and you could talk to someone about your classes and not only get a viewpoint from a guy," Thys said.
Not only did Thys build relationships with students throughout her time at Iowa State and in ECSEL, but ECSEL also allowed her to form connections with professors in ECpE.
"It was really cool to get to know some of the professors," Thys said. "I had met professors before, but I never really talked one-on-one with them outside of the classroom dynamic. Without the classroom dynamic, they are just people, which I think really brings a better light to talking to them."
Thys built a one-on-one relationship through ECSEL with faculty members like Diane Rover, University Professor in ECpE, and Joe Zambreno, another professor in ECpE. These relationships with her professors allowed Thys to be more comfortable asking questions and viewing them as an approachable figure. Thys said approaching professors can often be intimidating, but having this one-on-one relationship broke that barrier and created an outlet for more resume-building connections.
"I think ECSEL has also sparked other opportunities to be involved in opportunities pushing for women in engineering," Thys said. "I think it's important to have that experience on your resume, which I think is important to be involved in for the future."
As Thys approaches graduation and her future career, she can be a role model for the students she's met in ECpE. Through ECSEL, she has met many women — younger and older — to influence her in her field and says she hopes to inspire other women the way her fellow classmates have inspired her.
"Now hopefully other girls can watch me in my job and reach out to another woman in STEM," Thys said.