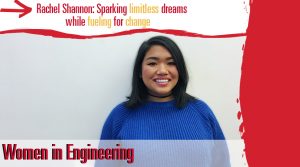 Rachel Shannon: Sparking limitless dreams while fueling for change
Rachel Shannon, a graduate student at Iowa State University's Department of Electrical and Computer Engineering (ECpE) has traveled an unexpected path and never thought she'd be where she is today.
Last December, Shannon graduated with a bachelor of science in electrical engineering, but she still has more schooling left. She plans to pursue a double master's, a hard feat, in both electrical engineering and industrial design.
But while Shannon now has a definitive plan for her future, it wasn't always that way. In fact, She originally was drawn to the arts, almost opposite of math and science.
"I didn't think I was going to go down an engineering path," Shannon said. "In grade school and high school, a lot of what I did was student government, theatre, choir and a lot of fine arts."
After Shannon graduates in roughly three years with a double master's in industrial design and electrical engineering, she isn't sure what path she will take, but she says being a professor is a likely path. Shannon's broad range of interests showed her how students all have different learning styles. In her classroom, Shannon will be very hands-on, always having a participatory-style environment opposed to a lecture based off of Powerpoint slides.
"I would like to see less of the authoritarian view as a student. I want to change that environment, and with these two degrees, I want to change how education is being done in engineering. I want it to be more interactive, more hands-on. I want students to feel like they have relationships with their classmates."
Shannon said there are things in the engineering-education field that still need improvement and she wants to be a part of the journey.
"The engineering program hasn't moved forward, despite the fact that we create technology for the future," Shannon said. "I feel like our program is stuck in the past, where it is completely lecture-based and a one-sided conversation in the classroom."
One of Shannon's main focuses in education is increasing diversity among engineering. Diversity is necessary to success, she said.
"You don't want just one mindset in a field; you want diversity to develop new things, people with different backgrounds and different trains of thought because people think differently," Shannon said.
Shannon's desire for diversity in engineering seems to stem from the obstacles she crossed on the path to where she is today.
In high school in her home state of California, Shannon joined the Navy, where she truly found her calling.
"When I joined the navy, about a year out of high school, I was assigned an IT," Shannon said. "The work that I ended up doing was specialization in radio frequency, helping communications go out into the rest of the world."
In the Navy, Shannon did a lot of technical work with math and science. Although she loved what she was doing in the navy, she still wanted to go back to school. And when she left after four years in the navy, her desire to understand people and their minds led her to pursue a degree in psychology in San Diego.
After being enrolled in psychology for some time, Shannon left her initial plan pursuing that degree. After her husband, who she met in the Navy and graduated with a degree in psychology recommended she pursue something else, Shannon applied to colleges in Iowa — where her husband was initially from. She moved to Iowa with her husband and son, where Shannon began her degree in electrical engineering at Iowa State University.
Shannon pursued engineering because she wanted to learn the root of everything she did in the navy — and what it all meant.
"I decided I really liked electrical engineering because it was actually a field where I could learn the things I was doing in the navy," Shannon said.
In Iowa, she and her family resided in Cedar Rapids, about two hours away from Iowa State. Because of Shannon's passion and commitment, she commuted a total of four hours a day to class — two hours each way for around two months.
After testing out electrical engineering, Shannon found out how much she loved it. After a while in the program, Shannon met Associate Professor Mani Mina of industrial design. In that moment, Shannon realized industrial design was just as crucial to her as electrical engineering, so she made the decision to pursue both.
"Dr. Mina introduced me to industrial design, and I just felt like I was home, like this was what I've been missing throughout my engineering program: working with people," Shannon said. "So why not take the opportunity to do both electrical engineering and industrial design?"
Industrial design is the "human and creative element" to engineering, Shannon explained.
"Going into a double major, industrial design complemented the creative side of me that I didn't get to touch since I was in high school," Shannon said. "Electrical engineering is more of the technical side of engineering, but industrial design is the more human side."
While Shannon found her calling here at Iowa State University, she has also had to compete with some internal and external battles on her way to her degrees. One of the biggest struggles coming from California to Iowa was the culture shock, Shannon said. At Iowa State, the population is predominantly white, and in STEM fields like hers, most of her fellow students were male.
"In the navy, everyone does the same work. Regardless of your gender, you have to do the same. Coming into engineering, you kind of get a condescending attitude from males, and I didn't know where it was coming from. It was a total shock to me."
Although, there was one organization within ECpE that Shannon said really influenced her journey to finding herself as well as helping her cope with this change.
"What helped me get over my culture shock was my acceptance as an ECSEL scholar. That program helped me cope with the identities I was dealing with, like being a mother, a person of color and a non-traditional student."
Electrical, Computer, and Software Engineers as Leaders (ECSEL) is a program working to improve diversity and inclusion in electrical, computer and software engineering programs and in the workforce. ECSEL also provides scholarships to a diverse population of low-income, academically talented students with financial need.
"ECSEL helps diversify this department and make it more inclusive, and I am grateful that I get to be a part of that, because it is a very honorable thing to do," Shannon said.
After experiencing everything Shannon has experienced in her life, she has a dedication to teach others and help them grow in the way that others like ECSEL helped her. Currently, she is a mentor with Mina and plans on using her degrees in education. Before coming to ISU, Shannon was a NASA intern for some time as an education specialist and loved teaching.
For Shannon, her journey in engineering has been full of twists and turns, but it may have only just begun. She hopes to mentor students in engineering in the future and lead them on the paths they desire in the way that some professors, like Mina, did for her.
"I want students to be able to not view their instructor as a person of authority, but as a person who is able to help them navigate through these hard concepts that are engineering and math and physics," Shannon said.