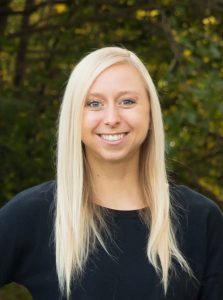 Alyvia Steenhoek, a graduate student studying sustainable agriculture, is the recipient of the David L. Calderwood Fellowship.
"I'm very honored to be the recipient of the David L. Calderwood Fellowship," Steenhoek said. "This award will not only help me financially, but it will allow me to focus entirely on my studies and work as a graduate student. I consider it an investment in my future career."
Steenhoek works with Associate Professor Dan Andersen on research projects related to cover crops, nitrification inhibitors and proper manure application timing to reduce soil nitrogen loss in the Midwest. She is also the social media and news assistant for Iowa State's Sustainable Agriculture Graduate Program.
In addition to her research and graduate school work, Steenhoek works part-time as a research associate at Accelerated Ag Technologies (PowerPollen), an ag-tech startup in Ankeny, Iowa. She will graduate in Dec. 2019.
David L. Calderwood, a native of Arcadia, Iowa, passed away on Nov. 3, 2012, at his home in Beaumont, Texas. Calderwood was born near Denison, Iowa, on Sept. 10, 1920. He graduated from Arcadia High School in 1938 and entered the Civilian Conservation Corps (then the United State Maritime Service) and Merchant Marine Operator's School at Gallups Island near Boston, Massachusetts.
Calderwood traveled the world from 1942 to 1945 as a Merchant Marine radio operator on the S.S. Marymar and S.S. Cape Comfort. He earned a bachelor's and master's degree in agricultural engineering from Iowa State College (now Iowa State University) in 1949 and 1952 respectively. David spent most of his career with the United States Department of Agriculture where he conducted research on conditioning and storage of rice. Upon retirement in 1984, he traveled extensively throughout the world, held memberships in numerous organizations, and actively supported the Iowa State University Alumni Association.