Rachael Barnes ('18 bio systems engr & global resources systems) and Alexander Lev ('19 software engr) have been named recipients of the ISU Alumni Association's Wallace E. Barron All-University Senior Award. The award honors outstanding seniors who display high character, outstanding achievement in academics and university/community activities, and promise for continuing these exemplary qualities as alumni.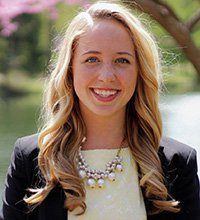 At ISU commencement in December, Barnes earned – in addition to her bachelor's degrees – a certificate in leadership studies. Leadership has been her specialty at Iowa State. Through ISU's Program for Women in Science and Engineering (WiSE), she has served as a student role model, student role model coordinator – a position that reaches more than 7,000 K-12 students every year, leadership studies peer mentor, and residential peer mentor. From 2016-2018, Barnes worked directly with the WiSE first-year leadership course, LD ST 270. She started as a peer mentor and gradually increased responsibilities to conclude her time in the role of learning and leadership assistant – an opportunity to prepare weekly lesson plans, facilitate discussions, and grade student assignments.
In addition to her extensive work with WiSE, Barnes has served as a peer advisor, chief of staff, director of student services, and a vice-presidential candidate for Student Government. She has been active with Student Alumni Leadership Council's Homecoming Central Committee, Alpha Delta Pi Sorority, Collegiate Panhellenic Council, and Global Resource Systems Student Ambassadors. From January 2017-March 2018, she was a National Conference on Race and Ethnicity (NCORE) Scholar, and she spent the summers of 2016 and 2017 working with ISU's Sustainable Rural Livelihoods and school garden service learning programs in Kamuli, Uganda.
She has been recognized with such honors as a 2018 Women Impacting Iowa State honoree, the Iowa State Sorority and Fraternity Director's Award and Iowa State Greek Community Member of the Year.
Upon graduation, Barnes started working for Cargill Animal Nutrition in its management associate program.
The son of Ukranian refugees, Lev has seized the educational opportunities available to him in the U.S. and at Iowa State University in remarkable ways. When he begins his professional career this summer with PricewaterhouseCoopers (PwC), Lev will be joining the prestigious multinational professional services firm in their cybersecurity strategy line of service, working at the intersection of business and technology.
Lev is the director of not one, but two of Iowa State's largest events: the ISU Engineering Career Fair and the ISU Blood Drive. With both organizations, he got involved early and worked his way to the top. Today, the ISU Engineering Career Fair is the largest indoor collegiate career fair in the nation, operating with a $1 million budget under Lev's leadership. He rose to the director role after serving as advertising executive and logistics executive for the organization.
The ISU Blood Drive is the largest blood drive in Iowa, with 3,500 participants. Today Lev is responsible for all aspects of the event, including hiring 11 student coordinators. He previously served ISU Blood Drive in on-campus and university relations executive roles, increasing awareness and participation in meaningful ways through his efforts.
Lev is also involved on campus as webmaster for Cardinal Key Honor Society and as vice president of Phi Kappa Psi, and his community volunteerism has benefitted such organizations as Boys and Girls Club, Miracle League, American Red Cross, Habitat for Humanity, Ames Public Library, Ames Parks and Recreation, Food at First, Youth Standing Strong, Feeding America, and the Ames Animal Shelter.
Story courtesy of the ISU Alumni Association.