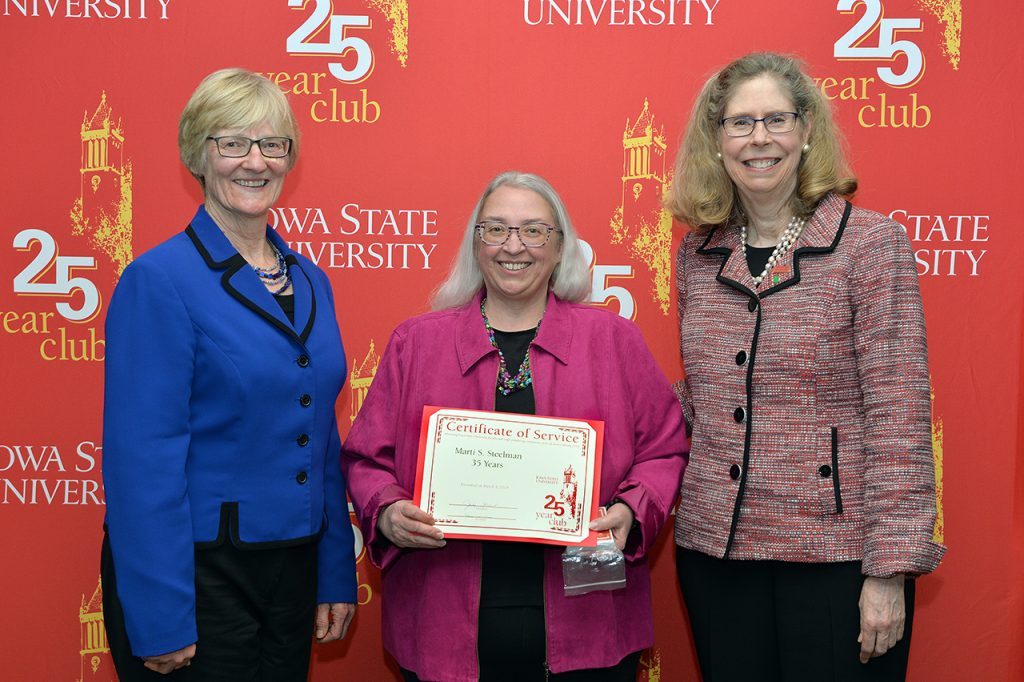 When you walk into the main office of the Department of Aerospace Engineering, the first person you see will probably be Marti Steelman. And don't worry about asking her that tough question. She'll probably be able to answer it. Though relatively new to Aerospace Engineering, she's been around the block a few times at Iowa State. 35 years' worth of navigation. And she's not putting the roller skates away anytime soon. She can point any student in the right direction for a classroom, answer university policy questions from co-workers, talk about working with Iowa State coaches and tell you about how a returned phone call convinced a prospective graduate student to come to Iowa State.
Steelman,  who works as a Secretary II in Aerospace Engineering, was honored for 35 years of service to ISU at a banquet hosted by the 25 Year Club, part of the university's Extension and Outreach. The group salutes Iowa State employees for 25, 35, 45 and 50 years of work at the university.
She's functioned as a merit secretary for her entire career, which has spanned many offices and departments at Iowa State. Here's the resume:
Department of Agronomy, graduate program secretary, 1983-1996
Department of Athletics, secretary to the director of camps, to the wrestling, gymnastics and women's tennis coaches, and to the director of compliance, 1996-97
Department of Mechanical Engineering, graduate program secretary, worked with associate chair on teaching schedules and course evaluations, 1997-2008
Department of Anthropology, "where I was the only person in a small department, so I did everything myself for undergrads and grad students," 2008-09 academic year
College of Design, where she worked for the departments of Community and Regional Planning and Landscape Architecture, 2009-10 academic year
Natural Resource Ecology and Management (NREM), undergraduate program secretary, 2010-17
Department of Aerospace Engineering, 2017-present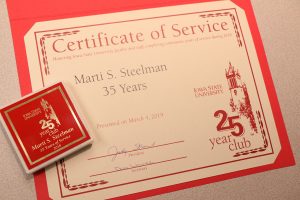 In her 35 years at ISU Marti has seen a great deal of change in a great deal of areas, not the least of which is in technology: "I've gone from electric typewriters, to memory typewriters, to fax machines, to computers with eight-inch floppy disks to dot matrix printers, to the computers we have now," she says. "I was once sent to a special class in Des Moines to learn how to troubleshoot eight-inch floppy disks. They crashed a lot!" But beyond floppy disks, she has been involved in some major computer-related tasks over the years. "I have built databases from the ground up," she will proudly tell you. "That was one of the most fun things I've done."
In Aerospace Engineering, Marti's position description is written so she is able to do nearly any task the department needs. Much of her time is spent working on thank you communication to donors, scheduling appointments for interim chair Alric Rothmayer, assisting students with shipping of design projects, processing purchasing card transactions, making hotel reservations for visitors, coordinating meetings with the department's Industry Advisory Council and coordinating graduating senior events.
"At one time in offices, everything was paper and telephones – no electronics, Marti says. "And I prided myself on being good with the phone. Once when I was in Agronomy a graduate student told me when he was looking at grad schools he had called our department and left a message asking for information. He then turned to his wife and said, 'I'll bet they never call back.' Within a few minutes he got a call back from me asking how I could help him. After he became a student here he told me that returned phone call from me is what convinced him he should come to Iowa State. He said many other schools never bothered to call back."
That concern for students has earned her recognition. "In NREM, we had a very diverse group of students, and many were from Puerto Rico. One of them nominated me for a diversity award and I got it. When I was in the College of Engineering the first time I received a merit award for service to students," she says. But for Marti, working with students is not about awards: "I love having the teachable moments with students. They'll say 'I need help with my financial aid.' So I'll say, 'Well, let's try having you work with the Financial Aid office.' Other times, students will want to share something going on in their lives that they don't want to talk about with a faculty member or an advisor. I'm here to be a good listener."
But she says the most rewarding student interactions and observations are the ones "where the light bulb comes on." "It's so interesting to watch the transformation that sometimes happens with freshmen. They come to Iowa State maybe not convinced that they should even be here, let alone what they should do with their life. But then at some point, you see the light bulb come on, and then it's a matter of 'not only do I belong here, but I know now what I want to do – and I'd better make sure I get the grades to make that happen.'"
"I want students to be as excited when they graduate as they were when they came in."