Michelle Soupir, an associate professor of agricultural and biosystems engineering, was named equity advisor for the College of Engineering. Soupir replaces associate dean for academic affairs Sriram Sundararajan, who served since 2013.
"Michelle brings outstanding experience in fostering diversity and inclusion to this key role in the College of Engineering," said Sarah Rajala, James L. and Katherine S. Melsa Dean of Engineering. "We look forward to Michelle's guidance of our continued investment in treating all Cyclone Engineers equitably and with respect."
Read more on Soupir's new role, plans for the position and more below: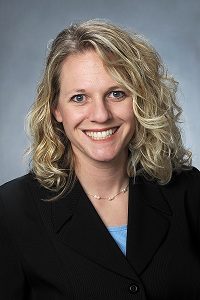 What is the position of equity advisor?
As the college's equity advisor, I will support the recruitment and advancement of women and faculty of color, and disseminate information and best practices to departments. I will also be engaged with ADVANCE activities at the university and college levels.
ISU ADVANCE is the most prominent vehicle to recruit, retain and advance women and people of color in faculty positions at Iowa State.
I will be involved with ADVANCE by collaborating with the equity advisors from other colleges and the ADVANCE faculty fellow to formulate and implement strategies and activities – like workshops and networking events – at the university and college level. These activities are designed to support institutional transformation to support promotion and success of faculty.
Along with this, I will co-chair the College of Engineering's Diversity and Inclusion Committee. I am also available for consultation on issues including recruiting, mentoring, professional development, promotion, leadership opportunities and departmental climate as they relate to support for women and minority faculty.
How do you define equity, diversity and inclusion?
Our goal is equal opportunity throughout the college in hiring or selection for opportunities or advancement. Diversity can be broadly defined based on ethnic background, gender, socio-economic status, and more, and it's important to recognize and appreciate these differences. Inclusion is about the environment. How can we appreciate and welcome the many forms of diversity on our campus and in our classrooms?
What are some of the current programs and services offered in the College of Engineering that advance equity, diversity and inclusion?
In addition to my position as equity advisor, there is a Diversity and Inclusion Committee which works on college-level programming and reporting. LeQuetia Ancar serves as the Multicultural Liaison Officer in the college, specifically working with multicultural and women undergraduate students to promote success. International students within the college are supported by Santos Nunez in Engineering Student Services. A program that highlights our international students is our Engineering Global Friends program.
Within the college, we also have several student groups who promote inclusive environments for our under-represented students. Another exciting activity is the upcoming Multicultural Scholars' Preview which will occur later in February. This event recognizes the accomplishments of prospective multicultural student scholars and provides opportunities for the departments to interact with the students and answer questions. This is also a great recruitment opportunity for the college.
What are your plans for the position of equity advisor going forward?
First of all, I'm available to provide training for faculty search and promotion and tenure committees. I'm also starting to collect baseline college-level data, and working to understand departmental climates. From this I'm eager to see what opportunities exist to enhance equity, diversity and inclusion within certain programs. I am also looking forward to serving my colleagues by providing information for consultation on issues of equity, diversity and inclusion.