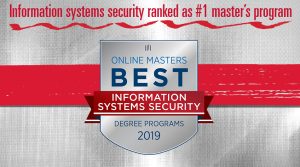 Information systems security ranked as #1 master's program
Iowa State University's online information security systems program was recently featured as the best master's program in information systems security for 2019 by Online Masters. This master's program, led by University Professor Doug Jacobson, is hosted by the Department of Electrical and Computer Engineering (ECpE) at Iowa State.
Not only was the program selected as the best master's programs in information systems security, but Iowa State specifically was found to have the best course delivery as well. Online Masters said, "Iowa State University makes it convenient for distance learners to earn their master's degree in information systems security. The courses are delivered through digital streaming video, giving them the freedom to log in and view the lessons on their own schedule."
Online Masters based their selection of best master's programs on curriculum quality, program flexibility, affordability and graduate outcomes. Iowa State's program sits with a 69 percent graduation rate and $627 per credit for the master's programs in information systems security. For students, this means they can pursue a prestigious master's program with a high graduation rate at an affordable price.
Iowa State's program has been successful in the past and is on the right path to be successful in the future. Just last June, the master's program was ranked in the top 10 online master's degrees by Best College Reviews in information security systems. Jacobson said one of the main reasons they are so successful is their high level of real-world interaction.
"We have a good balance between practical hands-on and theoretical materials," Jacobson said. "This provides students with not only the deep background needed to succeed over their career, but also provides them practical experience they can use immediately."
At Iowa State, the master's program lasts two years, with full-time and part-time options and openings in the summer, fall and spring. An online master's program in information security systems has been open for students since 2000.
Students who pursue a master's in information systems security can also gain employment in cyber intelligence, digital forensics and information assurance. The rapid job growth in this market is just one of the many reasons Online Masters researched, analyzed and ranked the Top Master's in Information Systems Security programs.