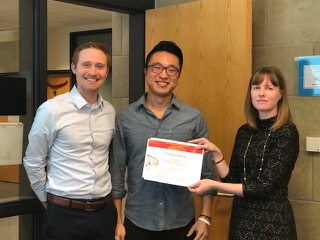 Dohgyu Hwang, graduate student at Iowa State University's Department of Materials Science and Engineering (MSE), is this year's recipient of the Melba and Karl Gschneidner Go for the Gold Award. The award, presented by the MSE department, was established by Ames Laboratory senior metallurgist Karl Gschneidner, Jr., with the honorarium he received as recipient of the Acta Materialia Gold Medal in 2008. It's given annually to an MSE student for the "most exciting, breakthrough research" in a calendar year. The research may be in any topical area in the field of materials science, such as ceramics, metals, polymers, electronics and magnetic materials and so on.
"Dohgyu's work discovered that by creating designed cuts in an adhesive film, inspired by the Japanese art of paper cutting called kirigami, we can rapidly create adhesives that stick 10 times as strongly yet be removed easily when needed. These materials can then be reused," said MSE Assistant Professor Michael Bartlett, Hwang's major professor. "This is an exceptional combination of properties for an adhesive material."
Hwang explained more about his work: "We demonstrated a simple but effective strategy to develop reversible adhesives by controlling layouts of elasticity without using chemistry or surface microstructures. Kirigami allows for systematic programming of stiffness," he said. "The kirigami-inspired adhesive displays enhanced adhesion over non-patterned adhesives and strong directional characteristics in peeling. This provides new insights for strategies to develop high capacity, easy release adhesives for medical and household applications. This advance is important for both advanced adhesives and designer materials, providing new tools to control adhesion for applications in wearable bio-monitoring, bandages for biomedical applications and soft matter engineering."
The Go for the Gold award requires the recipient to have made groundbreaking research.
"I think I received this award because this work opened a new avenue for using kirigami principles in materials engineering, specifically to control interfacial behavior, such as adhesion. To date, kirigami principles have been utilized primarily to make materials more stretchable" Hwang said. "However, we looked at its usefulness in a different way and asked the question: 'How can we develop adhesives by applying kirigami principles? The stiffness-controlling and patterning capability might be able to tune adhesion effectively.'"
In the future, Hwang's work may help people through something as simple as an everyday bandage.
"In the United States alone, more than 1.5 million traumatic injuries occur each year while removing medical bandages. Skin tearing occurs especially to those with fragile skins, such as senior citizens, infants and patients with diabetes. This award will encourage me to continue exploring new adhesion/peeling mechanisms to contribute to community wellbeing," Hwang said.
"Dohgyu is passionate about his research," Bartlett said. "Combine that with his analytical and problem solving abilities, and you have a researcher who has a bright future."