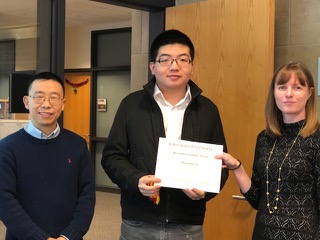 Zhongming Fan and Ayuna Tsyrenova, graduate students at Iowa State University's Department of Materials Science and Engineering (MSE), recently received awards for their work: The Iowa State Graduate College Research Excellence Award and Teaching Excellence Award, respectively.
The research award recognizes graduate students for outstanding research accomplishments as documented in their theses and dissertations, while the teaching award recognizes and encourages outstanding achievements made by graduate students in teaching. These students are expected to be academically superior and to develop a well written product based on their work. The intent of these awards is to recognize the "best of the best" of graduate students.
Fan, who received the research award, works with ferroelectric-based devices.
"Even though ferroelectric is quite an old field, there are still a lot things staying illusive. We now should be able to unravel these problems using advanced experimental techniques, such as transmission electron microscopy (TEM)," Fan said. "My research has many aspects involved, including electrocaloric, electric fatigue, thermal depolarization and antiferroelectrics. Taking advantage of TEM, specifically in-situ TEM and High Resolution TEM, many previously unknown phenomena are directly revealed. Even though my findings are more related to basic science, hopefully they can provide a guideline for the future design of ferroelectric-based devices."
MSE Professor Xiaoli Tan is Fan's major professor.
"Mr. Zhongming Fan has clearly demonstrated his excellence in materials research during his Ph.D. study at ISU," Tan said. "He is always self-motivated with strong scientific curiosity. He has a strong passion for his thesis research project and works extremely hard. He has deep understanding of his data and presents them in a very convincing way. So far he has produced 11 technical articles in prestigious peer reviewed journals."
Fan is grateful for the support of his professor and department.
"I felt really encouraged," Fan said. "This award will definitely push me to proceed."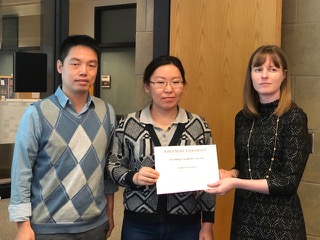 Tsyrenova, who received the teaching award, has been a teaching assistant for two years in MatE 453; she also volunteered to help with MatE 351, which is the pre-requisition for MatE 453.
"This class is heavily oriented on the hands-on experience and includes a lot work in a lab. I lead the lab section and helped students to learn about the equipment and characteristics methods," Tsyrenova said. "I am very humbled and honored to receive the Teaching Excellence award."
MSE Assistant Professor Shan Jiang is Tsyrenova's major professor.
"Ayuna is careful and patient with the students," Jiang said. "She is also very organized and always makes sure homework is graded on time and we have enough lab supplies for our lab course."
Tsyranova gives credit to Jiang and others for this opportunity.
"No doubts, this award will improve my CV and help in future career either in academia (teaching experience) or industry (leadership experience)," Tsyrenova said. "I feel very grateful and would like to thank my major professor and our department for all the support and guidance."