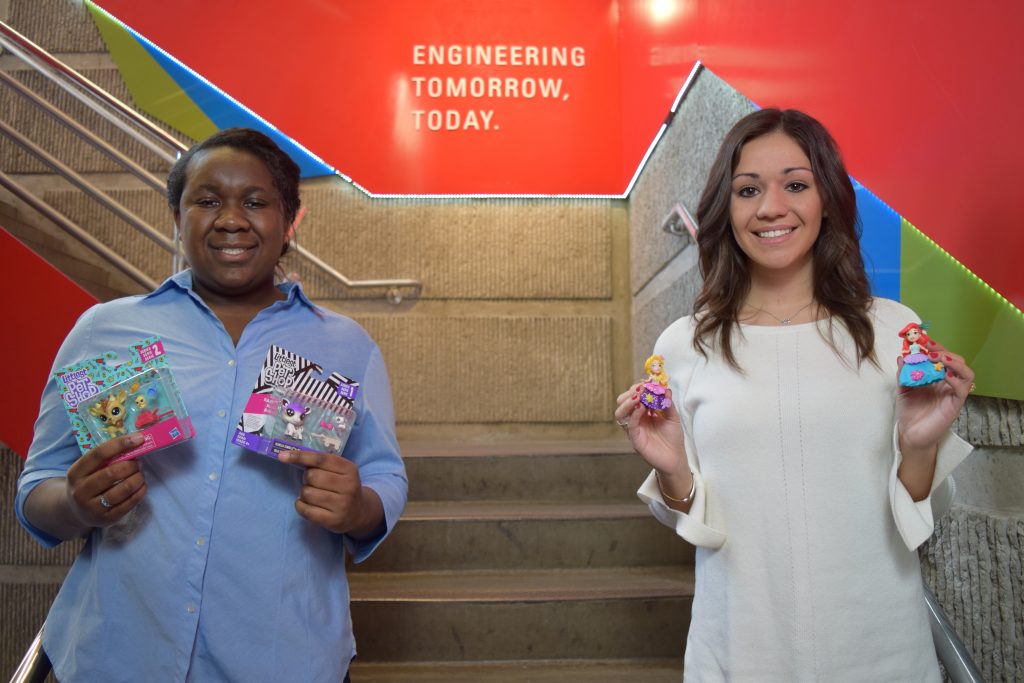 With the holidays right around the corner, a pair of mechanical engineering students hope that they can one day spread the holiday cheer through their passion to design children's toys.
Madeline Turner, a senior in ME, and Lucille Murphy, a sophomore, are at different stages in their academic careers but the duo share the goal of wanting to apply their ME skills to the toy industry. For both of them, their passion for toys can be traced back to their childhoods.
"When I was a kid, I loved playing with Polly Pocket and Littlest Pet Shop toys, and thought that the coolest job in the world would be setting up the little playsets and toys for the pictures that they take for commercials and packaging," said Turner, who grew up in Cedar Rapids.
Turner was encouraged to pursue a career in toy design because of the groundwork laid by Debbie Sterling, an entrepreneur and a mechanical engineering graduate from Stanford University. Sterling founded GoldieBlox which aims to empower young girls by integrating STEM with storytelling and promoting creativity.
"Hearing about Debbie Sterling reminded me of my childhood dream job, and made me realize that a career in the toy industry is possible. It also showed me that being an engineer can be very fun. Realizing that my interests in math and science could be combined with creativity made the decision to study mechanical engineering very easy," said Turner, adding that her father Chris Turner was a 1983 graduate of ME at Iowa State and also influenced her.
Murphy, who grew up just down the road from Turner in Iowa City, said that her creative imagination as a child led her to pursue a degree in ME with the hope of one day working in the toy industry.
"I always was creating worlds with my Littlest Pet Shop toys. Even though I had a lot of items I bought for them, I never had exactly what I wanted to make my own stories so I started to paint and redesign my toys and make houses and objects out of cardboard, paper, tape, and anything else I could get my hands on," Murphy said.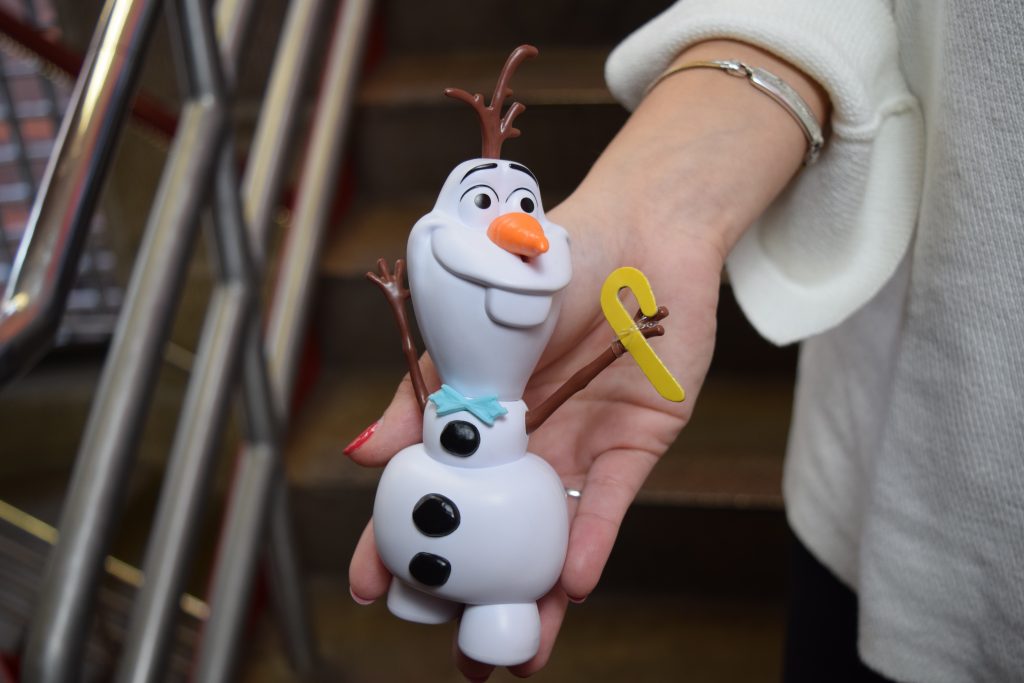 They each chose to attend Iowa State because of its strong reputation for engineering. Turner said that the ME curriculum at Iowa State has done a nice job of providing her with a framework of skills and knowledge that helped her to get a co-op with the toymaker Hasbro in the spring of 2017.
"Manufacturing classes taught me about injection molding, which is how many of the toys are made. Materials classes taught be about the different types of plastics, and the properties associated with them. But aside from these technical skills, the ME curriculum taught me how to solve a problem, which I feel is very valuable in any workplace," she said.
During her six-month co-op at the Hasbro office in Burbank, California, she had the opportunity to work on toys in the Disney princesses line as well as characters from the Disney film Frozen. She said the experience taught her a lot about the toy development process from designing to engineering to marketing to packaging and distribution. During her co-op she assisted the engineers with cost analysis, production schedule monitoring and function reviews.
"It is a very creative, innovative, and fast passed industry to work in," said Turner. "It's also very rewarding to see a toy go from a sketch on paper, to a product on the shelf. I was amazed at how much work goes into each product to ensure customers are getting the best value possible."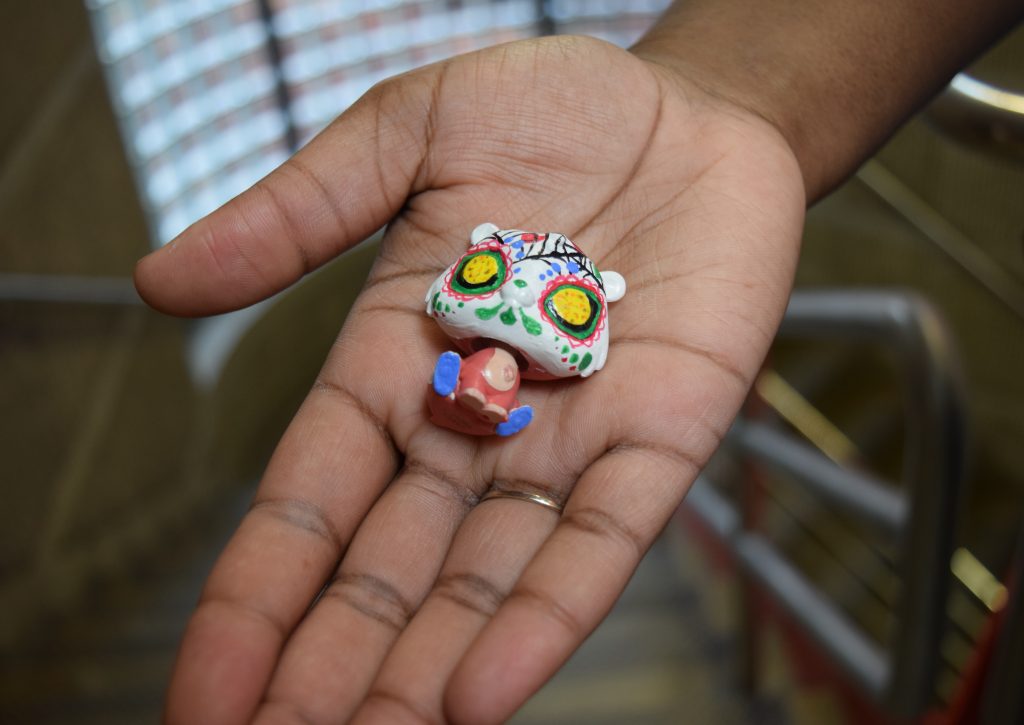 As just a sophomore, Murphy has yet to complete an internship or co-op but she's gaining experience through her own entrepreneurial efforts. She is in the process of launching her own toy company, Blue Diamond Toyhouse, which she plans to manage alongside her responsibilities as a student. Similar to Turner, Murphy said Polly Pocket and Littlest Pet Shop were her favorite toys growing up but she also drew inspiration from Disney movies.
"My favorite Disney character was of course Tiana," said Murphy, referring to the main character from the 2009 Disney film The Princess and the Frog. "She was the first black woman entrepreneur that I had ever seen and even today she is one of my biggest role models."
For aspiring toymakers, both Murphy and Turner said that imagination is key to achieving this dream.
"I am passionate about this because using imagination and creating new items from your mind is what allows us as humans to not only grow but have a future. We need to be innovative and by making toys that encourage imagination and innovation I am helping others invent the future," Murphy said.
Turner echoed this sentiment.
"I think that play is so important for kids' development and imagination. I think about all of the time I spent playing as a kid, and the imaginary worlds I created, and have such fondness for those memories," she said. "With a career in the toy industry, I feel that I get to be a part of creating this same experience for a new generation."
Turner will graduate this weekend and in January will begin work as an Associate Project Engineer for Hasbro in Burbank. Murphy plans to graduate in either 2021 or 2022 and hopes to also work for Hasbro after graduation, or perhaps even peruse her own entrepreneurial endeavors. Both women hope that they might one day be able to serve as role models for young girls who have a similar dream of becoming toy designers.
"Being a girl in engineering, I see a great need for more girls to become engineers. I feel that many girls view engineering how I used to, or are not exposed to it at all, but making it a part of play is a fun, creative way to fix this problem," said Turner.