Iowa State construction engineering faculty member looks to minimize erosion and sediment discharge into Iowa's waterways
When does a body of water become too polluted to use for recreation or drinking? Take a look at this map of Iowa impaired waterbodies, prepared by the Iowa Department of Natural Resources (DNR) in 2016, and you'll see impaired lakes, rivers, streams and wetlands crisscrossing the entire state.
"That's a big concern," says Michael Perez, an assistant professor of construction engineering at Iowa State University (ISU). "A good amount of that damage is caused by agricultural pollutants, where nutrients that run off during rain events make their way into streams, rivers and lakes. But it's also from urban and from construction activities."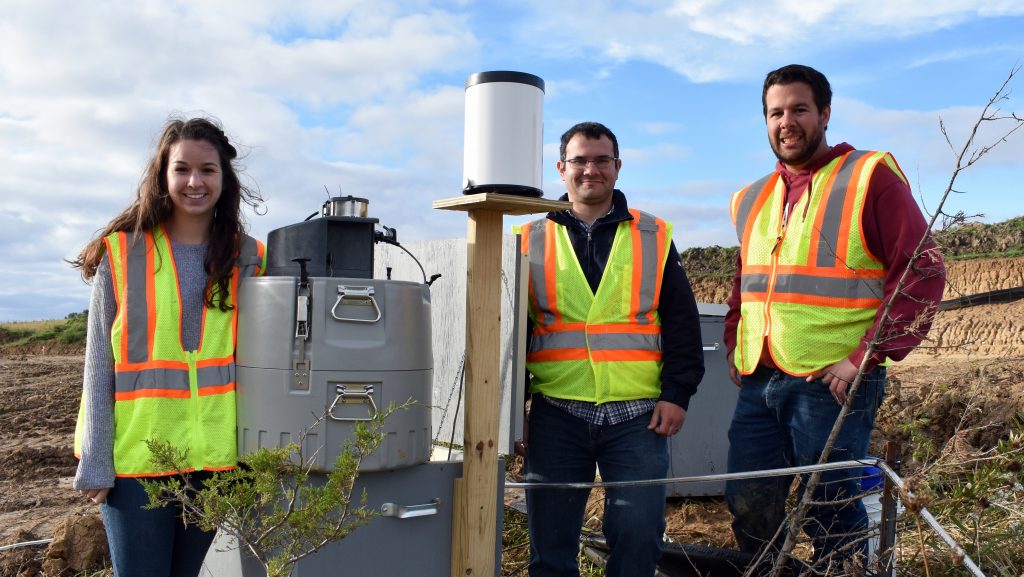 On construction sites, Perez explains that the chief concern is erosion and the resulting sediment runoff into nearby waterbodies, primarily during heavy rainfall. Perez is the principal investigator for the project, "Field Monitoring of Erosion and Sediment Control (E&SC) Practices and Development of Additional Iowa DOT Design Manual Guidance." This $220,000 E&SC project, funded by the Iowa DOT, will span two years and develop improvements for erosion and sediment control practices used on active construction sites throughout the state.
"Our main goal with this research is to develop implementable guidance that will successfully protect downstream water quality," says Melissa Serio, an earthworks field engineer for the Iowa DOT. "It has the potential to improve how we design and construct projects with respect to environmental stewardship."
The words "impaired waters" have become increasingly important in the state. To be deemed "impaired," the Iowa DNR states that the percent of contamination in the lake, river, stream or watershed area must be such that the "water quality does not fully support that waterbody's designated uses for human contact, aquatic life or drinking water" (Read more about understanding impaired waters). "Impairments" is an umbrella term for indicators of various pollutants and contaminants, including the presence of high levels of bacteria and nitrate, reduced water clarity and increased algae growth.
Following the 2016 release of Iowa's Section 303(d) Impaired Waters Listings, The Cedar Rapids Gazette reported that more than half of Iowa's tested waterbodies were impaired. In addition, the Iowa DNR states in its water quality assessment that "most waterbodies move off the 303(d) list because water quality improvement plans are written or new data is available. However, relatively few waters [come] off the list because water quality improved enough to meet water quality standards."
On top of that, PLOS One, a journal of the Public Library of Science, printed the article, "Iowa stream nitrate and the Gulf of Mexico," in April of 2018. In the article, researchers from the University of Iowa and the Iowa Geological Survey found that, "Iowa's NO3-N load contribution to the Mississippi-Atchafalaya River Basin, the Upper Mississippi River Basin and Missouri River Basin averaged 29, 45, and 55 percent respectively for the water year period 1999–2016, and can be as high as 52, 63 and 89 percent, respectively. Those researchers concluded that, "since 1999, nitrate loads in the Iowa-inclusive basins have increased." (Hear the full interview with researchers on National Public Radio's "On Point.")
"Due to rapid growth and development within the state of Iowa, particularly considering highway expansion overseen by the DOT, several hundred acres are being disturbed, which leaves unprotected soils susceptible to erosion," says Jaime Schussler, a graduate researcher for the E&SC project. "For sustainable growth, we need to make sure we are responsibly managing our nutrient-rich soil and protecting surrounding waterbodies."
Iowa DOT measures currently in place for limiting construction site pollution include development of stormwater pollution prevention plans for each site. Perez and Schussler, along with assistant professor and co-principal investigator Bora Cetin from ISU's Department of Civil, Construction and Environmental Engineering (ISU CCEE), the Federal Highway Administration (FHWA), the Iowa DOT and Iowa State's Institute for Transportation, will compile and catalog erosion and sediment control practices currently being used on Iowa DOT construction sites across central Iowa. The team will monitor the performance of these practices and then install modified practices to determine their effectiveness in reducing erosion and capturing sediment. Perez says this project will take the proactive approaches of various state highway agencies into account.
"What we will be doing is looking at the Iowa DOT's standard practices and trying to improve them," he explains. "We'll look for ways to make them more effective, more efficient in installation … we will also be thinking about installation and maintenance costs."
Perez is currently planning and designing the ISU Construction Stormwater Studio, a large-scale, performance-based testing facility to study various erosion and sediment control practices in a controlled environment closely mimicking conditions found on construction sites. The interdisciplinary research facility will simulate storm events and their erosive effects, allowing for the evaluation of practices to minimize erosion and capture sediment. Coupled with his current E&SC project, the new facility will be an important tool in advancing stormwater management technology and ultimately limiting the amount of contaminants that reach Iowa waterbodies.
"By limiting the sediment that would eventually end up in those streams, you're reducing the risk of impairing downstream waterbodies," Perez says.
Follow ISU CCEE on Facebook, Twitter and LinkedIn (search "Iowa State University Civil, Construction and Environmental Engineering" and "ISUConE"). NEW: now follow ISU CCEE on Snapchat and Instagram for the latest updates.