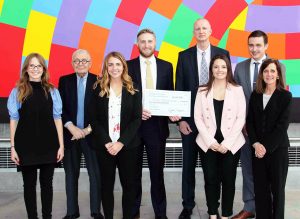 It was a big three days recently for Iowa State chemical engineering graduate student Dillon Hurd and pitches promoting his biomedical research project. Hurd, who will be graduating with a Master of Engineering degree May 3 (with plans to continue on into a Ph.D. program here at Iowa State), picked up two second place finishes and one first place finish in presentations for his SymVitae heart assist system – a research project he has worked on for much of his student career at ISU.
Hurd's business venture, The Hurd Health Group, started off the run with representatives Hurd and Ethan Marti (an ISU student studying entrepreneurship) netting second place in the Ames Seed Fund Pitch Competition with a 90-second presentation. The next day Hurd Health Group took one of the top spots in the Pappajohn Center for Entrepreneurial Venture Student Business Plan Competition at Iowa State. The streak then was capped off with a second-place pitch honor in the Young Entrepreneur Convention Des Moines.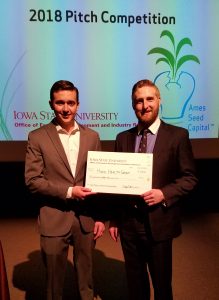 The road to the planning, development and marketing of Hurd's SymVitae wireless ventricular assist device all stemmed from an event that occurred outside of the research lab when Hurd's fiancée (now wife) was diagnosed with a heart defect that required surgery. Hurd began playing the "what if" game in his mind prior to her surgery, including the scenario of a heart transplant. The more he looked into the matter, the more he realized cardiac patients did not have a lot of options available for an artificial heart if needed, as opposed to a donor heart that is not always available on short notice.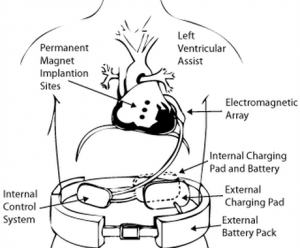 His fiancée made a full recovery from her surgery without complications, but the desire to pursue a device to help people with serious heart conditions was implanted in Hurd, and led him to where he is today. Along the way his creation caught the attention of the Pappajohn Center for Entrepreneurship at Iowa State in addition to the Iowa State Startup Factory, which spent a year assisting him in making his dream a reality. He has also been a participant in the CyStarters summer program for students, implemented by the Pappajohn Center. He received a grant from the State of Iowa and Hurd applied for National Institute of Health and National Science Foundation grants.
Hurd's development of SymVitae began when he was an undergraduate in Agricultural and Biosystems Engineering. "I was always interested in the biomedical field," said Hurd. "So I convinced Professor Norman Muzzy in Ag-Bio to allow me to do a project where I would build a prototype of an artificial heart, with chambers and valves all included – it's what's called a TAA—a Total Artificial
Heart. There's only one on the market, so I felt that I could develop something better," he remarked. "I tried producing TAAs with different types of motors to power them, and ended up going with a brushless electric motor — the simplest kind of electric motor there is — and just used a permanent magnet and an electromagnet and got it to pump fluid."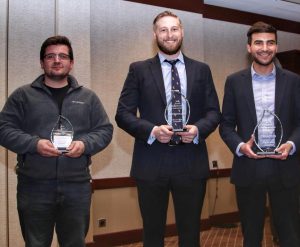 But coming up with a new artificial heart is an expensive endeavor. It was not until after he began looking into applying for a grant the second semester of his senior year that Hurd found a spark to take him in a different direction. He applied for the state and NIH grants to assist him in his research, "and I started looking for a supporter," he said. "And that's when I found Dr. Derrick Rollins in Chemical and Biological Engineering. Dr. Rollins said, 'You've done all this research, you might as well do a Ph.D. with this.'"
And so, with the start of a march toward a PH.D. program with Dr. Rollins came a change in direction for Hurd's project, and the progression toward a ventricular assist device, SymVitae. By utilizing minimally invasive surgery, wireless charging, adaptive controllers, and a pulsing pump that works with a patient's natural heart, it allows patients to retake freedom. "After a person has a heart attack, a part of the heart dies, and you lose power," Hurd explained. "A device like this can help you recover power." The purpose of such a device is to be used as a "bridge" between the time when a person suffers heart failure and is waiting for a heart transplant. Hurd explained, "The person would be able to go home and lead a normal life until a transplant can be arranged. This has many advantages – the big ones being a significant cost savings, and the safety factor with the person being at home instead of in a hospital intensive care unit where there can be risk of infection."
With the recent accomplishments in presentations helping to spread the word about his research, Hurd will receive his M.Eng. with a great deal of momentum as he looks to aid heart attack victims with an affordable and attractive option to helping them have more freedom at a crucial time in their medical care.
More information about SymVitae and other projects being developed can be found on the Hurd Health Group web site.