A group of six agricultural engineering students represented Iowa State University for the first time at the Fluid Power Vehicle Challenge on April 11-14, 2018. The team designed a human-powered vehicle that used a hydraulic powered transmission. This was a national competition sponsored by the National Fluid Power Association and was held at the Danfoss Application Development Center in Ames, Iowa.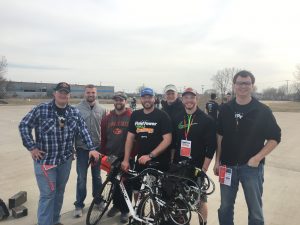 Members of the team include Ethan Parker, Andrew Whitaker, Garret Fjeld, Connor West, Kyle Blaylock and Aaron Miller. All of these students are seniors in agricultural engineering. The team was mentored by Brian Steward, a professor in the Department of Agricultural and Biosystems Engineering.
The team competed against nine other schools from across the nation including:
Cal-Poly San Luis Obispo
Cleveland State University
Milwaukee School of Engineering
Murray State University
Purdue University
University of Akron
University of Cincinnati
Western Michigan University
West Virginia University Institute of Technology
"We enjoyed meeting the other teams and learning about their backgrounds and how each team got involved in the competition. It was also very cool to see the different ways that each team approached the same design problem," said Blaylock.
The team began their project in September and ended with the final competition in April. This project was also used for their senior design and capstone course, ABE 415 and 416.
"The majority of us had just completed ABE 413, our hydraulics class, and Dr. Steward mentioned the competition during this class. It was an intriguing project because it meant we would be able to design and fabricate parts, instead of solely designing them. We were the first team from Iowa State University to attend the event, and we also had the opportunity to compete against schools from across the nation. All of this contributed to our decision to compete in the Fluid Power Vehicle Challenge," said Parker.
The team was split into two working teams. Miller, Fjeld and West collaborated on the chassis and Blaylock, Parker and Whitaker worked on the drive train. From September through April, the team estimates that 500 working hours were put into this project.
Highlights of their design include using solenoid powered directional control valves in the hydraulic circuit – a feature not seen in the majority of other team designs. They also reclaimed the gear system off of the original bicycle and used it to drive their pump. This allowed for a range of gears to choose from for varying torques and speeds.
The students noted that this was the first real exposure that many of the team members had to design and assemble a hydraulic system. This competition allowed the team to gain knowledge of how hydraulic systems operate, the inefficiencies that come with the use of hydraulics and the different types of components that can be used in hydraulic systems.
West said, "Although we did not win anything at the competition, we were happy that we were able to bring a working vehicle to the competition, as three teams entered were not able to compete due to inoperable vehicles. One thing we did take away was a bank of knowledge that can be passed on to future teams so that they can hopefully be more successful than we were. "